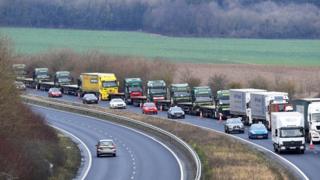 Image copyright Reuters
Exporters to the EU face 7,000-truck-long queues in Kent and two-day delays to trade after the Brexit transition period ends, the government has warned.
Imports will also be disrupted in January, according to a letter from cabinet minister Michael Gove to the freight industry, seen by BBC News.
It also raises the prospect of a winter spike in Covid-19 leading to absences of port and border staff.
The transition period is due to expire at the end of the year.
Mr Gove, the Chancellor of the Duchy of Lancaster, responsible for no-deal planning, wrote to logistics groups with the government's "reasonable worst-case scenario" planning for when the UK leaves the EU's single market and customs union rules on 1 January.
He will outline the scenario, which the Cabinet Office stressed is not a forecast, in the House of Commons later.
The picture of chaos at the border might be familiar from a similar set of projections made for no-deal Brexit a year ago as part of what was known as Operation Yellowhammer.
The government says this is not a prediction but an illustration of what could be reasonably expected.
'Disrupted'
According to the Cabinet Office document, in its reasonable worst-case scenario, there may be "maximum queues of 7,000 port bound trucks in Kent and associated maximum delays of up to two days".
"Both imports and exports could be disrupted to a similar extent," it says.
This is caused by up to 70% of freight trucks travelling to the EU being unprepared for new border controls, including up to half on the busiest "shorts straits" routes Dover to Calais and in the Eurotunnel.
The EU is expected to impose full goods controls on the UK, stopping all freight without the correct documentation at the end of the transition period on 1 January.
The disruption is assumed to build in the first two weeks of January, and could last three months, or longer should France rigorously apply Schengen passport checks on hauliers at Dover and the Channel Tunnel.
Image copyright EPA
The purpose of this stark communication is to try to get traders to act now to get ready for new border formalities that could help mitigate the disruption.
Mr Gove told the industry that this needs to happen irrespective of whether or not there is a deal in the UK-EU trade negotiations.
The freight industry itself has expressed,