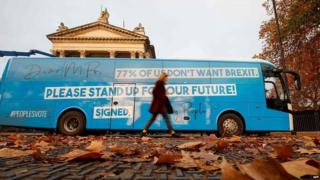 Image copyright AFP
The Lib Dems will try and legislate for another Brexit referendum next week but the People's Vote group are not backing the move, saying the timing is wrong.
The Lib Dems are tabling an amendment to the PM's Brexit deal, to be voted on on Tuesday, calling for "all necessary steps" to prepare for another vote.
They say it will stop the UK "crashing out of the EU or accepting a bad deal".
But People's Vote sources say they want MPs to reject the deal first to build cross-party momentum behind a ballot.
"It has always been our priority to ensure Parliament rejects the deal at this point," a spokesman for the cross-party campaign group said.
The UK is due to leave the EU on 29 March 2019 but MPs are widely expected to vote down Theresa May's agreement on the withdrawal terms and future relations with the European Union.
If they do, there is real uncertainty about what will happen next.
Support for another referendum has been growing in recent weeks amid fears of Parliamentary deadlock over how to implement Brexit. However, most Tories remain opposed and Labour is split on the issue.
The Lib Dems, which support staying in the EU, hope to force a vote on another referendum next Tuesday when MPs will consider various amendments before deciding whether to accept or reject the PM's agreement.
'Final say'
The party's Brexit spokesman Tom Brake said the public should have the "final say" on whether the UK left and he appealed to supportive Labour MPs to back his party's amendment.
"The Conservative government have brought back a deal that nobody wanted nor voted for," he said.
"If Theresa May thinks the country is with her, she must put it to the test by offering a people's vote with an option to remain in the EU."
The amendment, which is not certain to be voted on, is backed by the party's 11 remaining MPs, after Stephen Lloyd resigned the party whip in Thursday in order to back Mrs May's deal.
Labour's official policy is to keep all its options open.
But about 30 La