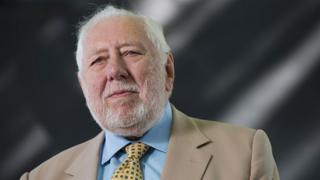 Image copyright Getty Images Image caption Lord Hattersley has said that leaving the European Union would be a "disaster"
Former Labour deputy leader Roy Hattersley has said he supports another Brexit referendum "very strongly".
The politician said Britons have "a right" to have their say on Theresa May's Brexit deal, which goes to a vote in the Commons on Tuesday.
A People's Vote event has been held in Sheffield, with Dame Margaret Beckett and Sir Vince Cable speaking.
Meanwhile, hundreds of people have been attending an anti-austerity march in central London.
The event was organised by The People's Assembly Against Austerity, with speakers including shadow chancellor John McDonnell.
Lord Hattersley, 86, who was due to speak at the People's Vote rally but pulled out due to illness, told BBC Radio 4's Today programme: "I think the British people have a right to cast a vote on the merits of the package Mrs May has negotiated.
"They voted by a small majority to leave the union, but they had no idea what leaving the union meant.
"We now know how bad it will be. We now know that it will be much worse than remaining in, and that the British people have a right to express a view on whether they want to remain in or they want to leave."
He added that "sometimes, you just have to do what is right", rather than looking at what "wins elections" and possibly at the risk of losing Labour supporters.
Image copyright PA Image caption Those taking part in the anti-austerity rally met outside the BBC and marched to Trafalgar Square
No deal would be the worst possible scenario and needed to be avoided, said Lord Hattersley, who previously said that leaving the European Union would be a "disaster".
The peer, a minister in the Wilson and Callaghan governments, added that he did not think a general election – which Labour leader Jeremy Corbyn has called for – would happen.
MPs are widely expected to reject Mrs May's deal on Tuesday, negotiated between the EU and UK, with more than 100 Conservative MPs among those expected to vote against it.