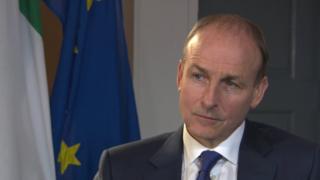 An injection of momentum is needed in the Brexit talks between the UK & EU, taoiseach Micheál Martin has said.
Speaking on the Andrew Marr Show, the Irish prime minister said the talks were "getting into an urgent timeframe and so far progress has been too slow".
On Friday, Michel Barnier said "significant divergences" remained between the EU and the UK on a post-Brexit trade agreement.
Mr Martin said a deal would be done, but it could not be "at any price".
Both sides agreed to "intensify" negotiations last month and held the first face-to-face talks since the coronavirus pandemic at the beginning of July.
If they are unable to reach a deal by the end of the transition period at the end of the year, the UK will leave the EU's single market and the customs union without any agreement on future access.
However, Northern Ireland will stay in the EU single market for goods.
Mr Martin said there was "no sense in a no-deal Brexit or a sub-optimal deal" between the EU and UK.
He said "ordinary people would suffer" if that happened.
"We must do everything to protect workers, protect livelihoods and protect the essence of our economy."
Image copyright PAUL FAITH/AFP/Getty Images Image caption Mr Martin also said demand for a border poll had come out of Brexit
Mr Martin also said Northern Ireland could get the "best of both worlds" when it came to Brexit.
"Northern Ireland needs development, it needs economic momentum and let's turn this into an opportunity for Northern Ireland and through that the island of Ireland," he said.
In a separate interview with BBC NI's Sunday Politics programme, Mr Martin said said that "out of Brexit came a demand for a border poll", but believes it "would currently be unnecessarily divisive".
The Fianna Fáil leader said "it's easy to call for a border poll" but that the "nuts and bolts of how does one share an island" need to be understood.
Mr Martin said that the most effective way forward is to "build on relationships" and to "do research" into the practicalities of these issues.
"More substance around these issues is needed and a greater understanding of the implications of what some people are calling for," he said.
Image caption Ian Marshall, the first unionist to be elected to the Seanad in 2018, was not re-elected this year
The draft deal that was agreed to establish a government in the Republic of Ireland sought the establishment of a new shared-island unit within the Department of the Taoiseach.
The paper for government said this unit will be set up to work "towards a consensus on a shared island".