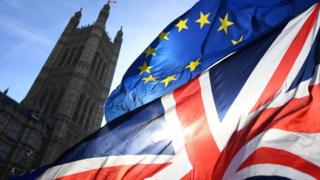 Image caption The government says the Internal Market Bill is designed to be a safety net in case the Brexit negotiations fail
NI Environment Minister Edwin Poots and Stormont officials are in disagreement over work on entry controls at local ports, the BBC understands.
The entry controls are required to implement the checks envisaged as part of the EU withdrawal agreement.
In the NI Assembly on Tuesday, the DUP minister was asked if he intended to temporarily stop work on the controls.
"We will have to wait to see what happens," the minister said.
In July, the UK confirmed it intended to put border control posts at Northern Ireland's ports.
The government described the move as "a limited expansion of facilities at some existing entry points, where certain controls for animal and plant health already take place".
Speaking in the assembly, South Down Sinn Féin assembly member Sinead Ennis asked Mr Poots whether he was signalling his intention to put a "temporary stop" to work at these point of entry controls.
Ms Ennis said such a policy would be detrimental and in conflict with the executive's position regarding the Brexit protocol.
Image caption The entry control facilities at NI ports would be used to check animals and food arriving in the EU single market
Mr Poots said he did not want to create any barriers around Northern Ireland.
He said he favoured giving people bringing goods in to Northern Ireland as much access as possible.
The minister said work on the entry controls had been ordered by Westminster's Department for the Environment and Rural Affairs and "we will have to wait to see what happens".
However the BBC understands the prospect of a "temporary stop" to the work at local ports has been causing friction behind the scenes.
Image copyright PA Media Image caption Edwin Poots says he does not want to create any barriers around Northern Ireland
Officials are concerned any ministerial order to pause work on the points of entry could be in breach of the Northern Ireland Act.
The act – which underpins the Stormont Executive – gives the secretary of state the power to order a minister or department to take an action if he believes it is required to fulfil the UK's international obligations.
Earlier on Tuesday, a senior DUP MP said there was "only one train of thought" in the party when it comes to opposing the NI Protocol in the Brexit deal.
Sir Jeffrey Donaldson made the comments after the government said it would bring new legislation on customs rules in NI this week.
DUP leader Arlene Foster previously told Sky News she had to recognise the protocol was "the reality now".