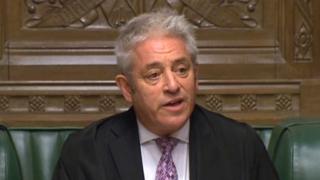 Image copyright HOC
The UK government may have broken Parliamentary rules by not publishing Brexit legal advice, the Commons Speaker has said.
John Bercow said there was an "arguable case" that a contempt of Parliament has been committed.
It means MPs will debate and vote on the issue on Tuesday.
This is likely to delay the start of the debate on Theresa May's Brexit deal.
Mr Bercow was responding to a call from senior MPs in six parties – Labour, the Lib Dems, the SNP, the Democratic Unionist Party, Plaid Cymru and the Green Party – for contempt proceedings to be launched.
They say the government has gone back on a binding vote to release "any legal advice in full".
Attorney General Geoffrey Cox – the government's chief legal adviser – earlier published an overview of his legal advice on Theresa May's Brexit deal, and answered MPs' questions on it.
He argued that it would not be "in the national interest" to publish his advice in full, as it would break a longstanding convention that law officers' advice to ministers is confidential.
He insisted there was no cover-up, telling MPs: "There is nothing to see here."
The MPs are also demanding the immediate publication of his final and full legal advice.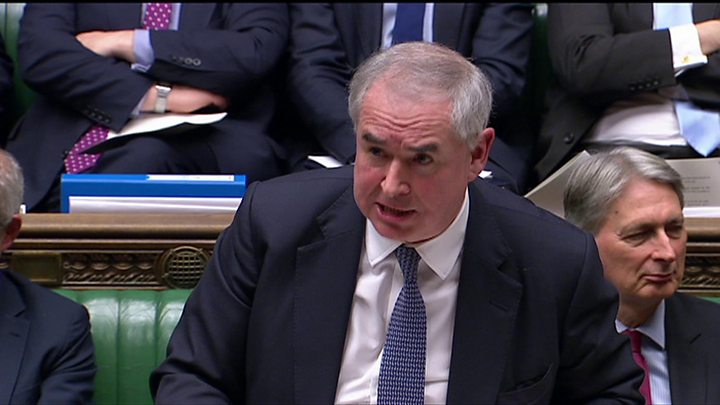 Media playback is unsupported on your device
Media captionCox: Brexit backstop a 'calculated risk' for UK
MPs are due to vote on Mrs May's deal on 11 December.
Labour's shadow Brexit secretary Sir Keir Starmer said: "This is not about party politics.
"It's about parliamentary democracy and guaranteeing that MPs have the information they need to know – precisely what the government has negotiated with the European Union.
"Even at this 11th hour, I would urge ministers to step back from the brink and to not go down in history as the first government to be found in contempt."
However, the government has tabled an amendment to have the issue referred to MPs on the Privileges Committee to investigate whether its response fulfils all its obligations, taking into account any relevant past cases.
BBC Newsnight's political editor Nick Watt said government sources had told him they would not be publishing the legal advice, arguing that to do so would be unprecedented.
Analysis
By Sean Curran, Parliamentary Correspondent
The Parliamentary wrangle over the legal advice given to ministers about the Brexit deal is now coming to a head.