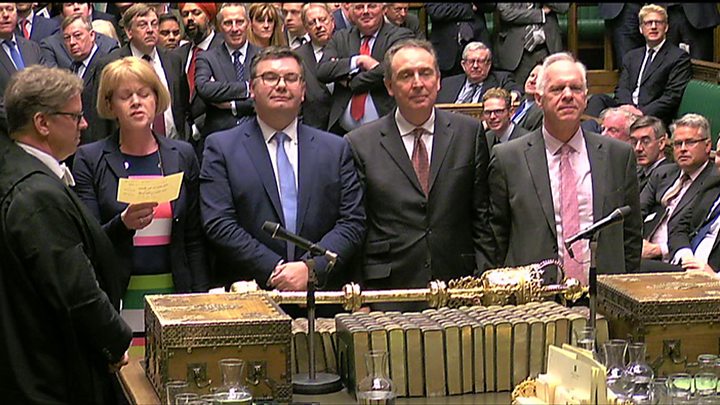 Media playback is unsupported on your device
Media captionTellers read out the result with a win for the government by 309 votes to 298
MPs have rejected a Labour-led effort to take control of Parliament's timetable, blocking the latest attempt to stop a no-deal Brexit.
The Commons opposed the move by 309 votes to 298.
If passed, it would have given opponents of a no-deal Brexit the chance to table legislation to thwart the UK leaving without any agreement on the 31 October deadline.
The result of the vote was greeted with cheers from the Tory benches.
But Labour leader Jeremy Corbyn responded by shouting "you won't be cheering in September".
Ten Tory MPs, mostly pro-Europeans, rebelled against the government by backing Labour's motion. Conversely, eight Labour MPs – mostly Eurosceptics or MPs in constituencies which voted Leave at the referendum – defied party instructions and voted against it.
A key factor for the government was the support of Northern Ireland's Democratic Unionists, who have voted against Theresa May during previous Brexit votes.
No deal would mean the UK leaving the EU without any agreement about the "divorce" process.
Overnight, the country would be out of the single market, customs union and institutions such as the European Court of Justice and Europol.
There are fears about widespread disruption in such an event – to trade, travel and the functioning of the Irish border, in particular.
'Blank cheque'
The opposition said the Commons defeat was disappointing, but it still believed there was a majority in the Commons against a no deal and it remained "determined to win this fight".
"There will be other procedural mechanisms we can use," shadow Brexit Secretary Sir Keir Starmer said. "We are already looking at what those other opportunities will be."
No 10 said giving MPs a "blank cheque" to dictate Brexit policy would have set a troubling precedent.
The UK was originally supposed to leave the EU on 29 March.
But the EU decided on a seven-month extension after MPs rejected the terms of withdrawal on three occasions.
Opponents of a no-deal exit are concerned that Theresa May's successor as prime minister could seek to take the UK out of the EU without parliamentary approval for such an outcome.
'Burning bomb'
Tory leadership frontrunner Boris Johnson and several of his rivals have said the UK must leave the EU by the revised date,