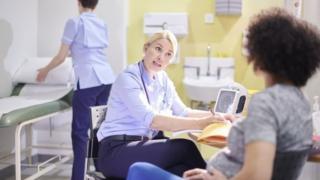 Image copyright Getty Images
The group representing hospitals and ambulance services in England has warned of a lack of "contingency planning" to deal with the impact of a no-deal Brexit on the health service.
In a leaked email to NHS England boss Simon Stevens, NHS Providers says leaving the EU without agreement would immediately be a real risk to services.
The group warns it would make it harder to stop the spread of diseases.
NHS England said preparing for every potential Brexit outcome is a priority.
Ministers are to reveal more details of their contingency planning for a no-deal Brexit later this week.
Brexit Secretary Dominic Raab, who will travel to Brussels for the latest round of talks with his EU counterpart Michel Barnier on Tuesday, has said a deal is still the most likely outcome.
But he has said preparations for the failure to reach an agreement this autumn, or Parliament rejecting any deal, is the responsible course of action.
The UK is set to leave the EU on 29 March 2019 and the two sides are currently negotiating the terms of its exit and its future relations in a whole range of issues.
With seven months to go, ministers have said they are stepping up contingency preparations for a no-deal Brexit, while insisting that it is not their chosen outcome.
'Stockpiles and shortages'
But NHS Providers – which represents acute, ambulance, community and mental health services within the health service – has expressed concern about what it says is a lack of engagement with ministers in the email, seen by the BBC.
It has called for NHS England and NHS Improvement – which oversees NHS trusts and providers – to convene a group of trust leaders as a matter of urgency.
In an email sent to NHS chief executive Simon Stevens, also copied in to Mr Raab and Health Secretary Matt Hancock, it calls for a co-ordinated response to confront the challenges that would be presented by a no deal.
Chief executive of NHS Providers Chris Hopson writes that there has been "no formal communication" to trusts from either NHS England or NHS Improvement on this issue.
Without national planning and coordination "there could be both stockpiles and shortages of medicines and medical devices", Mr Hopson says.
He adds that "disease control coordination could also suffer".
Two MPs who want a referendum on the final Brexit deal have criticised the government's approach.
Conservative MP Dr Sarah Wollaston, chair of the health and social care commi