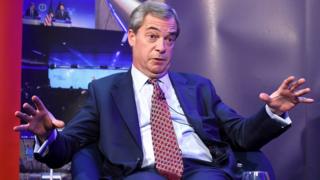 Image copyright PA
Nigel Farage has announced he is going "back on the road" to campaign against the prime minister's Brexit plan.
Writing for the Daily Telegraph, the UKIP MEP said Theresa May's Chequers agreement was a "sell-out" because it included regulatory alignment with the European Union.
He added he would join Eurosceptic group Leave Means Leave at a series of public events across the UK.
The 54-year-old said a "battlebus" had already been hired.
Mr Farage's return is another potential headache for Mrs May who is already facing bitter opposition to her proposals from sections of the Conservative Party.
The former UKIP leader said "scores of people" had stopped him in the street to ask when he was "coming back".
He added: "Well now you have your answer: I'm back."
Mr Farage's announcement comes amid calls for a second referendum on the final Brexit deal.
Campaign group People's Vote has also criticised the government's handling of negotiations wi