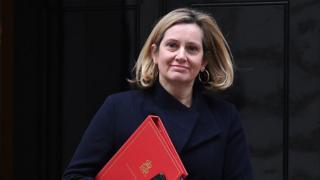 Image copyright EPA/ANDY RAIN
The UK should pursue the so-called "Norway plus" option – if Theresa May's Brexit plan is rejected by MPs on Tuesday, according to Work and Pensions Secretary Amber Rudd.
In an interview with the Times, Ms Rudd said she still supported the PM's plan – but added a variation of Norway's set-up was the best alternative.
Ms Rudd admitted, however, that she was not certain it could "be done".
Norway plus would mean the UK remaining in the European Economic Area (EEA).
That, Ms Rudd said, "seems plausible not just in terms of the country but in terms of where the MPs are".
Ms Rudd is the first minister to back an alternative plan publicly, if Mrs May's deal is rejected by Parliament.
What is the Norway model?
Norway is not a member of the EU but is in the European Economic Area, meaning it is part of the single market
In return, it contributes to the EU budget, and has to follow most EU rules and laws, including the freedom of movement of goods, services, capital and people
Norway is not part of the customs union, so, to avoid a hard Irish border, a new customs union (or equivalent arrangement) with the EU – a "Norway plus" solution – would be necessary
You can read a more detailed explanation of the Norway model here.
Despite voicing support for an alternative, Ms Rudd is still encouraging her colleagues to back Mrs May's deal in Tuesday's vote.
"We voted to leave, we should deliver on leaving and we can do it in a way that works," she said.
"I would say to the colleagues who are voting against the withdrawal agreement… anything could happen after that.
"As the prime minister says, you might not get your Brexit at all."
Analysis
By Nick Eardley, BBC political correspondent
The cabinet is supposed to be focused on selling Theresa May's deal as the only show in town.
On Friday, ministers toured the country trying to sell it to the public ahead of Tuesday's crucial vote.
As things stand it looks highly unlikely Mrs May will win the support of enough MPs – and much of the conversation in Westminster has moved on to what happens next.
Amber Rudd says her preferred Plan B is a Norway style arrangement, which would see the UK stay in the single market. But Ms Rudd's suggestion would mean freedom of movement –