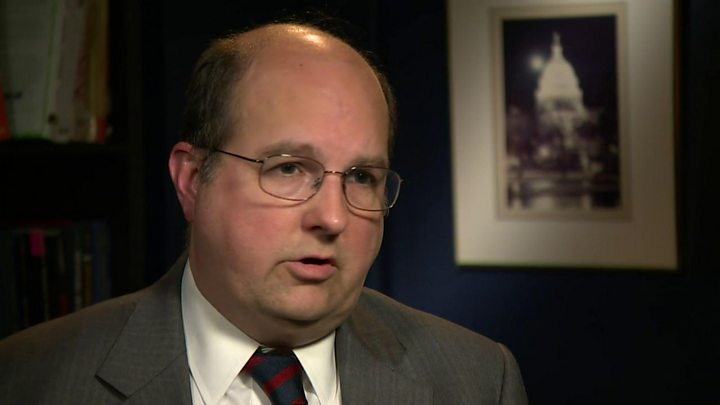 Media playback is unsupported on your device
Media captionUK shouldn't be afraid of US farm exports, says former Trump adviser
A former top trade adviser to US President Trump has told the BBC "there is a level of panic" around Brexit "that is not justified".
Stephen Vaughn, who served as acting trade representative before becoming general counsel on trade, stressed the UK has "enormous leverage" in a potential trade deal with the US.
On a deal's likelihood, he said the Trump administration is "ready to go".
The UK will be able to strike its own trade deals only after leaving the EU.
As a member of President Trump's negotiating team, Mr Vaughn had a key role in the talks with Canada and China, before leaving the administration in April.
In reference to a potential UK deal, he compared the situation with US-Canada negotiations: "No one would say, 'Canada has to join the US in a union or Canada will get steamrolled by the US'."
"You have an enormous amount of leverage, and we'll see how you use it," he added, speaking in his first broadcast interview since leaving the Office of the US Trade Representative.
On US preparations for a potential deal with the UK, he said that Robert Lighthizer, the current US Trade Representative, had done all the preparations needed.
'Months or years'
However, he acknowledged that agreeing a deal could take "months or years".
The US Trade Representative, sometimes shortened to USTR, is the president's top adviser on international trade. The team negotiates directly with foreign governments to create trade agreements and participate in global trade policy organisations.
Concerns have been raised over the impact of a deal on life in the UK, including whether US drugmakers would demand the ability to sell to the NHS.
Another key export for the US is agricultural products, but the fact farming methods in the US don't fall under the EU regulations has led some to worry about food standards.
Image copyright AFP Image caption Could Boris Johnson and Donald Trump agree a trade deal together?
Mr Vaughn emphasised that the US would like a deal to involve the expansion of farm exports, saying he doesn't think it's "something people should be afraid of".
The trade expert, who now works in the private sector, also played an active role in the Trump administration's trade war with China.
He said that a key aspect of those talks was to make sure the two sides comprehended each other: "You really just want to make sure everybody is understanding the issues and what is at stake."