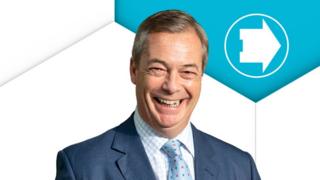 The Brexit Party has set out the policies on which it plans to fight the 2019 general election
According to its leader, Nigel Farage, the 22-page document is not a manifesto but a "contract with the people".
1. No extension to the transition period
The Brexit Party continues to talk about a "clean-break Brexit".
The Brexit Party has changed its tune on, yes, Brexit.
Until recently its leader, Nigel Farage, said a no-deal Brexit "was the only acceptable deal".
This policy moves the goalposts.
Gone is the criticism of Boris Johnson's withdrawal agreement – now the party simply promises there will be "no extended transition period".
At the moment the proposed transition period – during which the UK would follow EU rules and regulations without having any say in making them – finishes at the end of next year.
Without saying so explicitly, the Brexit Party is warning that it will campaign to ensure Mr Johnson sticks to his promise not to extend the transition.
That gives very little time to agree the terms of a future free trade deal.
The Brexit Party continues to talk about a "clean-break Brexit".
But whoever wins this election, the UK is likely to be negotiating with the EU about the nature of its future relationship for years to come.
This policy would apply to the whole of the UK.
2. No privatisation of the NHS
The NHS must remain a publically-owned, comprehensive service that is free at the point of use.
Comments by Nigel Farage about encouraging the use of private health insurance to help take the pressure off the NHS led to speculation about what this might mean for the service.
The manifesto states though that the NHS must remain a publicly-owned, comprehensive service, free at the point of use and with privatisation ruled out.
There is no mention of a role for insurers or any long-term aspiration to encourage the better off to save for private healthcare.
Interesting policies include 24-hour opening for GP surgeries and broadening training for nurses and midwives without the need for a degree.
But there are no costings to underpin those specific measures.
Health is devolved so this policy would only apply to England.
3. Reduce annual immigration
Net migration will be cut to 50,000 a year
Nigel Farage has written about cutting net migration –