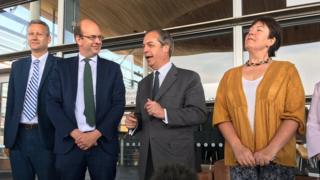 Image caption Nigel Farage (second left) welcomes the AMs who want to join his party
Nigel Farage has announced that four AMs are planning to form a Brexit Party group in the Welsh Assembly.
He announced Mark Reckless as the party leader, on a visit to Cardiff Bay.
Other members include Mandy Jones, Caroline Jones and David Rowlands.
UKIP confirmed Mr Rowlands had resigned from its group in the Senedd.
Mr Farage said: "The leavers in Wales are all coming back together again, no more divided tribe.
"I'm very pleased as a leader of the Brexit Party to welcome four members of the Welsh Assembly who will now re-designate as of this afternoon as Brexit Party members".
Mark Reckless told a press conference on the Senedd steps: "Bre