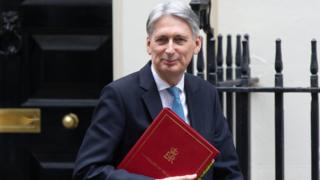 Image copyright Getty Images
It is now "physically impossible" for the UK to leave the European Union on 29 March, the chancellor says.
Philip Hammond told the BBC's Andrew Marr that even if MPs agreed the PM's Brexit deal in the coming days, a "short extension" would be needed to pass the necessary legislation.
He said the deal might not go forward for a third Commons vote without more support from the DUP and other MPs.
He said more MPs had decided to back it, but it was "a work in progress".
Mr Hammond also refused to rule out a financial settlement for Northern Ireland if the DUP backed Theresa May's deal.
The party, which has 10 MPs in the Commons, received £1bn as part of a confidence and supply agreement with the Tories after the last election – giving the government a working majority.
The DUP's Westminster leader, Nigel Dodds, met with senior cabinet members on Friday – including Mr Hammond – to discuss what it would take to get them onboard with the PM's plan, but they said afterwards there were "still issues to be addressed".
Legally the UK is still due to leave the European Union on 29 March. The EU must decide the terms and conditions of any extension.
Earlier this week MPs rejected Theresa May's deal again – this time by 149 votes – and then backed plans to rule out leaving the EU without a deal.
They also voted in favour of an ex