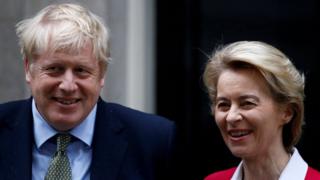 Image copyright Reuters Image caption Boris Johnson and Ursula von der Leyen will speak via video conference on Saturday
Prime Minister Boris Johnson and EU Commission president Ursula von der Leyen will speak in a video call later, after negotiations over a post-Brexit trade deal broke up without agreement.
Both sides are calling on the other to compromise on key issues, including fishing and government subsidies.
Mr Johnson told the Daily Telegraph chances of a deal are "very good" if everyone "exercises some common sense".
He also said he remains "optimistic" about a Canada-style relationship.
It comes after Mrs von der Leyen called for talks to "intensify", as both sides set an October deadline to settle their differences.
After six months of trade talks with the EU, the UK's top negotiator Lord Frost claims the outlines of an agreement are visible.
But without further compromise from the EU, he warns, differences over the contentious topic of fishing may be impossible to bridge.
Downing Street has always insisted that if there is no deal on fish, there will be no deal at all.
Mrs von der Leyen has said she hopes the video call with the prime minister on Saturday afternoon will create a pathway to securing an agreement, but she is likely to tell him the UK must show more willingness to abide by EU competition rules to gain full access to the single market.
It has long been assumed an intervention at the highest political level would be needed to get a breakthrough.
And according to the BBC's Brussels correspondent Nick Beake, another guaranteed topic of conversation will be Downing Street's insistence that it will override parts of the Brexit divorce deal which was agreed last year.
Although the government insists this is only a safety net to protect the peace process in Northern Ireland, the EU says it will refuse to sign any new trade agreement as long as the most controversial parts of the internal market bill remain in place.
'Common sense'
Speaking to the Telegraph, the prime minister said the chances of a deal "are very good if everybody just exercises some common-sense and looks at the deal that is there to be done".
He added that the UK had always been "very clear what we want – we want a Canada-style relationship".
"We have been members for 45 years, and I don't see why they can't have the same deal with us,