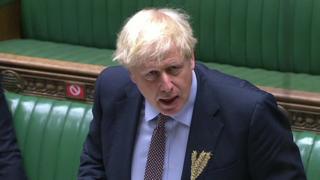 Boris Johnson has urged MPs to support a bill which modifies the Brexit deal he signed with the EU in January.
The PM said the Internal Markets Bill would "ensure the integrity of the UK internal market" and hand power to Scotland and Wales.
He also claimed it would protect the Northern Ireland peace process.
Critics say the move will damage the UK's international standing after a minister admitted the plans break international law.
The Scottish government has not ruled out legal action to prevent it becoming law.
Scotland's First Minister Nicola Sturgeon said: "The Tories' proposed Bill for a so-called UK internal market is an abomination. It is a naked power grab which would cripple devolution."
'Challenging circumstances'
The European Commission has called for an extraordinary meeting to discuss the bill's contents.
Commission President Ursula von der Leyen said: "Very concerned about announcements from the British government on its intentions to breach the Withdrawal Agreement. This would break international law and undermines trust."
Downing Street said the EU Withdrawal Agreement – repeatedly described as "oven ready" by Mr Johnson during last year's general election – contained "ambiguities" and lacked clarity in "key areas".
Image copyright PA Media Image caption EU negotiator Michel Barnier arrives in London for talks
The PM's spokesman said it had been agreed "at pace in the most challenging possible political circumstances" to "deliver on a decision by the British people".
It had been signed "on the assumption that subsequent agreements to clarify these aspects could be reached", the spokesman added.
Downing Street welcomed the idea of an "extraordinary meeting" with the European Commission to discuss the proposed changes and said it would be setting a date as soon as possible.
It comes as talks on securing a post-Brexit trade deal with the EU continue in London.
Remit of the bill
The new bill sets out rules for the operation of the UK internal market – trade between England, Scotland, Wales and Northern Ireland – after the end of the Brexit transition period in January.
It proposes:
No new checks on goods moving from Northern Ireland to the rest of Great Britain
Giving UK ministers powers to modify or "disapply" rules relating to the movement of goods that will come into force from 1 January if the UK and EU are unable to reach an alternative agreement through a trade deal
Powers to override previously agreed obligations on state aid – government support for businesses
The bill explicitly states that these powers should apply even if they are incompatible with international law.
Ministers say the legislation is needed to prevent "damaging" tariffs on goods travelling from the rest of the UK to Northern Ireland if negotiations with the EU on a free trade agreement fail.