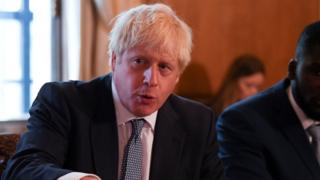 Image copyright Reuters
Boris Johnson will tell EU leaders there needs to be a new Brexit deal when he makes his first trip abroad as PM later this week.
The UK will leave the EU on 31 October with or without a deal, he will insist.
However No 10 said there will be "very little discussion" of Brexit during the meetings in France and Germany.
Meanwhile, the Sunday Times has printed leaked government documents warning of food, medicine and fuel shortages in a no-deal scenario.
It says the Treasury paper on preparations for a no-deal Brexit, codenamed Operation Yellowhammer, reveals that the UK could also face months of disruption at its ports, while plans to avoid a hard border between Northern Ireland and the Republic of Ireland are unlikely to prove sustainable.
The dossier reported by the Sunday Times says leaving the EU without a deal could lead to:
Fresh food becoming less available and prices rising
A hard Irish border after plans to avoid checks fail, sparking protests
Fuel becoming less available and 2,000 jobs could be lost if the government sets petrol import tariffs to 0%, potentially causing two oil refineries to close
UK patients having to wait longer for medicines, including insulin and flu vaccines
A rise in public disorder and community tensions resulting from a shortage of food and drugs
Passengers delayed at EU airports, Eurotunnel and Dover
Freight disruption at ports lasting up to three months, caused by customs checks, before traffic flow improves to 50-70% of the current rate
The government said the document was not what it expected to happen, but outlined scenarios being looked at as part of its no-deal preparations.
The leak comes as the prime minister prepares to travel to Berlin to meet German Chancellor Angela Merkel on Wednesday, and meet French President Emmanuel Macron in Paris on Thursday.
He is expected to say that Parliament cannot and will not change the outcome of the 2016 referendum and insist there must be a new deal to replace Theresa May's Withdrawal Agreement – which was defeated three times by MPs – if the UK is to leave the EU with a deal.
However, it is thought that the leaders are more likely to discuss issues such as foreign policy, security, trade and the environment, ahead of the G7 summit next weekend.
Boris Johnson had been reluctant to fly to meet European leaders until it seemed a breakthrough was likely.
But –