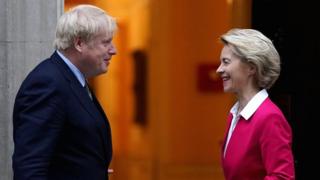 Image copyright Getty Images Image caption EU Commission President Ursula von der Leyen has said negotiating all aspects of the UK's future relationship with the EU by the end of 2020 would be "basically impossible"
They say an army marches on its stomach. The European Union does it with slides.
The EU negotiating team is gearing up for talks with the UK about the post-Brexit relationship by holding a series of seminars for diplomats from the 27 member states.
The presentations are being published online. Stuffed with jargon and seriously lacking in inspirational clipart, they provide important clues about how things might play out.
Why PD is key
Remember the Political Declaration? Known in Brussels as "the PD", it's the 26-page sketch of the future relationship agreed alongside the 600-page Withdrawal Agreement, which settled the terms of the UK's departure.
Image copyright Getty Images Image caption The UK officially leaves the European Union on 31 January 2020
The Political Declaration is often seen as a lesser document because it isn't legally binding, or as a sweetener to make the divorce terms more palatable.
It's clear that the EU takes the document as gospel because it's quoted at length in the slides. At length. Like it's the law.
EU officials are alert for signs that the UK might be softening on commitments made in the PD.
It's also a handy tool for keeping EU member states in line. For example, some have asked for other things to be added, to be told it's now too late.
FTA, you say?
One of the sessions for diplomats was about the centrepiece of the new relationship with the UK – the Free Trade Agreement (FTA).
This presentation was full of the EU's usual catch-phrases about this stuff: being out can't be as good as being in, there's no way to replicate membership of the single market without the free movement of people, etc etc.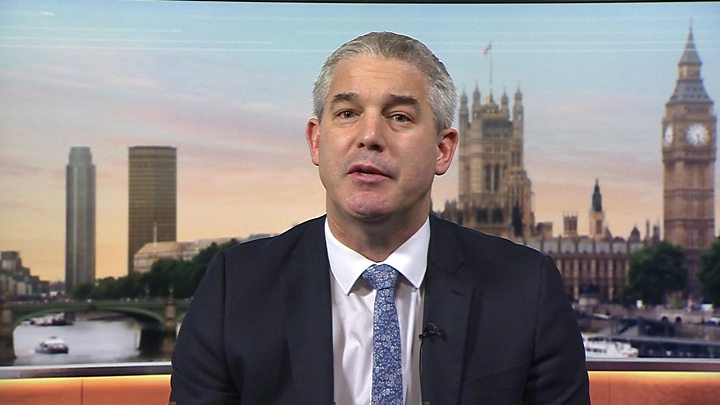 Media playback is unsupported on your device
Media captionBarclay: 'Let's be positive' about 2020 Brexit trade deal deadline
In the Theresa May era, this would read like a comprehensive rejection by Brussels of requests made by the UK.
It doesn't feel that way, now that there's a new British government which is relaxed about a looser economic relationship and can live with some friction in its trade with the EU.