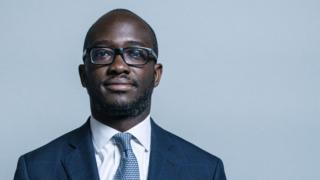 Image copyright UK Parliament Image caption Mr Gyimah said he would be voting against Mrs May's Brexit deal
The minister who resigned over Theresa May's Brexit strategy says another referendum may be the only option if MPs reject the deal.
Science and universities minister Sam Gyimah quit after Mrs May pulled the UK out of the EU's Galileo sat-nav system, following a row with Brussels.
He said the decision showed the UK will be "hammered" in Brexit talks.
Mr Gyimah is the 10th person to resign over Mrs May's Brexit agreement. He said he intends to vote against it.
BBC political editor Laura Kuenssberg said it was "another very dangerous moment" for the prime minister as it meant not only that she had lost another vote for her deal, but also that others might share Mr Gyimah's concerns and quit her government as well.
"Mr Gyimah's departure shows it is not just Brexiteers who are unhappy and feel her deal ties us too closely to the EU for good – but also Remainers who are worried the deal is an unsavoury halfway house," she said.
MPs will vote on the Brexit agreement – which has already been agreed between the UK and EU – on 11 December. Labour, the Lib Dems, the SNP, the DUP and many Tory MPs have said they will vote against it.
Speaking on the Today programme on Saturday, Mr Gyimah – who voted Remain – said: "Looking at the deal in detail, we don't actually have a deal. We have a deal in name only.
"We have given up our voice, our veto and our vote. Our interests will be hammered because we will have no leverage."
He urged Mrs May not to rule out another referendum if she loses the 11 December vote.
"If Parliament was in deadlock, Theresa May could get herself out of that deadlock by backing a second referendum," he said.
Tory MP Mr Gyimah's resignation was announced on Friday night, shortly after Mrs May said the UK was pulling out of Galileo, which is Europe's version of GPS and due to be fully operational in 2020.
The UK wanted to stay part of it but the EU said it would be banned from extra-secure elements of the project.
Mr Gyimah said what happened with Galileo was a foretaste of the "brutal negotiations".
In a Facebook post setting out his reasons for resigning,