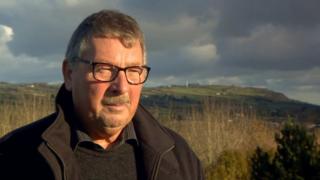 Image caption Sammy Wilson's statement came days after his leader said she accepted the deal was now "law"
The DUP's Brexit spokesman Sammy Wilson has called for the EU Withdrawal Agreement to be scrapped, saying the party "will not accept" the deal.
He said the deal, which includes the Northern Ireland Protocol, had placed a border down the Irish Sea.
He issued the statement days after his party leader and First Minister Arlene Foster said the protocol was now "law".
She said although some would continue to fight it, she had to recognise that the protocol "is the reality now".
The Brexit deal negotiated by Boris Johnson last October means the whole of the UK will leave the EU's customs union when the Brexit transition period expires at the end of 2020.
However, under the Northern Ireland Protocol, Northern Ireland will continue to enforce the EU's customs code at its ports and effectively stays in single market for goods.
This part of the deal was negotiated after more than three years of deliberations over how to avoid goods checks along the land border between Northern Ireland and the Republic of Ireland.
Image caption The nature of goods checks at NI ports is still to be agreed
However, the DUP vehemently opposed the protocol and any new goods checks at ports, arguing it would place an economic border between Northern Ireland and Great Britain.
'Boris Johnston's betrayal'
In his statement on Sunday, Mr Wilson repeated his criticism of the deal, saying it "must be scrapped or at the very least, significantly changed".
"The Withdrawal Agreement and the border which it places down the Irish Sea, separating Northern Ireland from the rest of the United Kingdom, was brought about by those who clamoured, campaigned and cajoled British negotiators to ensure that there were no checks between Northern Ireland and the Irish Republic," the DUP MP said.
"The political parties, the business groups, the economic commentators and the very representative bodies who are now complaining about the impact of the Northern Ireland Protocol, have to take responsibility for its existence in the first place.
"They opened the door to allow Boris Johnston to justify his betrayal of this part of the United Kingdom."
The East Antrim MP, who was the DUP's Brexit spokesman throughout the negotiations,