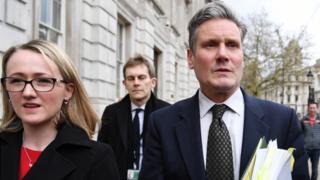 Image copyright EPA Image caption Sir Keir told reporters: "We will be having further discussions with the government" as he left
Talks between Conservative and Labour teams have taken place for a second day, in a bid to end Brexit deadlock.
It follows discussions between Theresa May and Jeremy Corbyn on Wednesday, which were described as "constructive".
Shadow Brexit Secretary Sir Keir Starmer said earlier that the idea of a "confirmatory" referendum on any Brexit deal would be discussed.
MPs backed a bill on Wednesday which would force the PM to seek a new delay to Brexit.
The House of Lords is due to debate it later on Thursday.
Leaving the talks, Sir Keir did not answer questions about what had been discussed, telling reporters: "We have had further discussions and we will be having further discussions with the government."
The UK is due to leave the EU on 12 April, and as yet, no withdrawal deal is in place.
But ministers have warned that the backbench bill – put forward by Labour's Yvette Cooper – could increase "the risk of an accidental no-deal".
No 10 says the bill, passed by the Commons with a majority of one vote on Wednesday, would deny the PM the power to agree a deal with EU leaders on April 10 as MPs would have to agree to any new Brexit date.
Any Brexit delay will require the unanimous backing of all 28 EU leaders at a summit next Wednesday.
If they agree – but suggest a different date to the one backed by MPs – the prime minister would have to bring it back to the Commons for further approval on Thursday 11 April.
"By April 11, the European Council will have concluded and the leaders will have returned to their member states. In the words of the secretary of state, the bill could increase the risk of an accidental no-deal exit," the prime minister's spokesman said.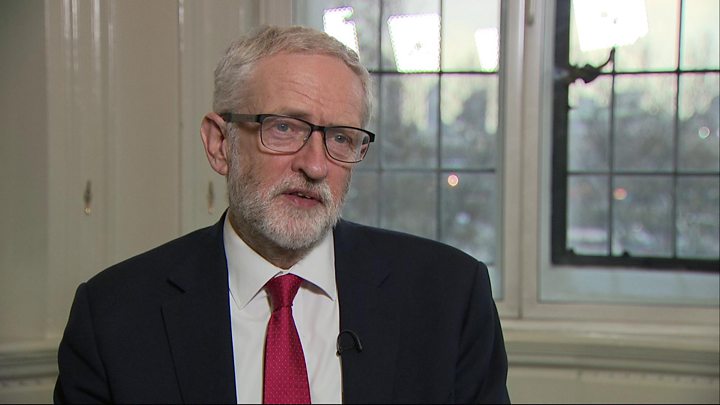 Media playback is unsupported on your device
Media captionCorbyn: May meeting "useful but inconclusive"
The backbench bill will need the approval of the House of Lords if it is to become law. Lords are debating the procedure to bring forward the bill, before discussing the bill itself.
But ultimately it is the EU which decides whether to grant an extension. European Commission Vice-President Jyrki Katainen said a no-deal Brexit was still "highly likely".