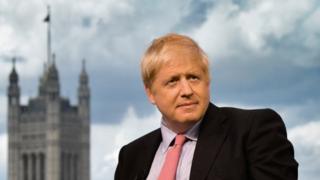 Image caption Boris Johnson has pledged to lead the UK out of the EU by 31 October with or without a deal
Boris Johnson's approach to Brexit is "reckless", Sinn Féin has said, after a leaked dossier warned of a hard border and food shortages if there is no deal.
The party's deputy leader Michelle O'Neill accused the prime minister of treating the Northern Ireland peace process as "a commodity" in EU talks.
Ms O'Neill was responding to the leak which was reported in the Sunday Times.
But Democratic Unionist Party (DUP) leader Arlene Foster said she believes the leaked dossier is "outdated".
"It comes from a time before Boris Johnson was prime minister, that's the first thing to say," Mrs Foster told BBC News NI.
"Secondly, it's been leaked with the idea really to undermine the prime minister before he goes out to Europe and meets European leaders this week."
Image caption Arlene Foster's party is in a confidence and supply arrangement with the Conservative government
The dossier obtained by the Sunday newspaper is a cross-government study on preparations for a no-deal Brexit, codenamed Operation Yellowhammer.
'Worst case scenario'
The dossier warns that the UK will face possible food, fuel and medicine shortages if it leaves the EU without a deal.
It also suggests that plans to avoid a hard border on the island of Ireland are unlikely to prove sustainable, and there could be months of disruption at UK ports.
Cabinet Minister Michael Gove, who is responsible for no-deal Brexit planning, tweeted on Sunday that Operation Yellowhammer is a "worst case scenario".
He added that the government has taken "significant additional steps" over the past three weeks to ensure UK is prepared to leave on 31 October.
Skip Twitter post by @BBCPolitics
Michael Gove says leaked #Yellowhammer dossier on impact of no-deal #Brexit outlines "absolutely the worst case", and government has taken "significant additional steps" to ensure UK is prepared to leave on 31 Octoberhttps://t.co/erUz3Y6B4P pic.twitter.com/2lJg2rb1hn
— BBC Politics (@BBCPolitics) August 18, 2019
End of Twitter post by @BBCPolitics
The prime minister has said the UK will leave the EU on that date "do or die", accepting that a no-deal Brexit will happen if an agreement cannot be reached by then.
Later this week Mr Johnson is due to meet with EU leaders and is expected to reiterate that the UK will leave with or without a deal.