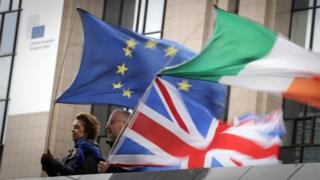 Image copyright EPA
EU and UK officials will resume Brexit talks this morning in the hopes of reaching a deal that can be agreed by leaders at a key summit on Thursday.
Prime Minister Boris Johnson is expected to update the cabinet on the progress of the negotiations, which continued through the night.
On Tuesday there were reports a deal was imminent amid claims the UK had made concessions over the Irish border.
But Downing Street said there was "more work still to do".
The EU's chief negotiator, Michel Barnier, will update the bloc on what progress has been made between the two sides when he briefs EU commissioners and ambassadors later.
Mr Johnson is facing a race against the clock to reach a new Brexit deal before the two-day gathering of EU leaders.
Any deal will need to be published – along with a legal text – if the EU27 are to consider ratifying the withdrawal agreement at their summit.
That meeting is crucial because under legislation passed last month – the Benn Act – Mr Johnson is compelled to ask the bloc for a delay to Brexit if he does not get a new deal approved by MPs by Saturday.
The UK is due to leave the EU at 23:00 GMT on 31 October and the prime minister has repeatedly insisted he will not request a delay.
Image copyright Reuters Image caption DUP leader Arlene Foster met the PM for 90 minutes on Tuesday night
But in addition to the challenges of reaching an agreement with the EU this week, Mr Johnson also requires support from Conservative Brexiteers and Democratic Unionists if he is likely to get his deal through Parliament.
Such support rests on the UK's proposed alternative to the Irish backstop – the measure aimed at preventing a hard border on the island of Ireland.
On Tuesday evening, Mr Johnson held a series of talks with backbench MPs and leaders of the DUP.
After a 90-minute meeting with the prime minister, the DUP said "it would be fair to indicate gaps remain and further work is required".
Earlier in the day, the party's leader, Arlene Foster, said the party could not accept reported plans of a customs border in the Irish Sea – meaning Northern Ireland would be treated differently from the rest of the UK.
Another Brexiteer, former Northern Ireland Secretary Owen Paterson, told the Sun he would wait to see the full details of a deal,