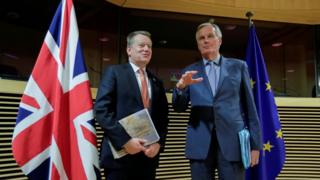 Image copyright Reuters Image caption David Frost (left) and Michel Barnier (right) will meet for trade talks again next week
Post-Brexit trade deal talks are set to continue, despite the UK rejecting the EU's ultimatum to scrap plans to override the withdrawal agreement.
The EU has threatened the UK government with legal action if it does not ditch its controversial Internal Market Bill by the end of the month.
Angered Tory backbench MPs have launched a bid to amend the new law.
Meanwhile, trade talk negotiators on both sides have acknowledged they are still clashing on "significant" issues.
Boris Johnson's proposed Internal Market Bill, which will be formally debated by MPs in the House of Commons for the first time on Monday, addresses the Northern Ireland Protocol – an element of the Brexit withdrawal agreement designed to prevent a hard border returning to the island of Ireland.
The new law would give UK ministers powers to modify or "disapply" rules relating to the movement of goods that will come into force from 1 January, if the UK and EU are unable to strike a trade deal.
The publication of the bill prompted emergency talks on Thursday, in which the EU said the planned changes must be scrapped or risk jeopardising the UK-EU trade talks.
But the government defied the EU's demand, insisting it would proceed as planned with the legislation it says is necessary to protect the integrity of the UK and the peace process in Northern Ireland.
Time and trust are running out
When it comes to Brexit, all negotiations are inter-linked: EU-UK trade talks, the process to implement their divorce deal, negotiations on fishing rights and Brussels' deliberation on UK financial service.
What happens in one area very much affects progress in the others. You cannot separate them entirely.
Which is why this week, as the war of words and wills between Brussels and Downing Street raged over the government's threat to throw a grenade at key parts of the divorce deal, everyone's thoughts turned immediately to the trade talks between the two sides.
Could they survive? In fact, they limp on.
Despite bitter arguments over legislation and a huge list of outstanding issues still to be ironed out in bilateral trade talks; despite time and trust running out on both sides; neither the EU nor the UK seem to want to be the first ones to walk out the door.