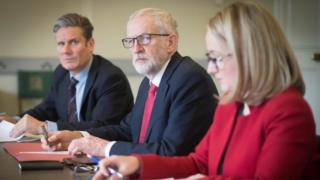 Image copyright PA
The view of Labour members seems clear.
Polling for a project on party membership – led by Prof Tim Bale of Queen Mary University – was published at the turn of the year.
It suggested more than 70% of Labour's members backed a second referendum.
And if it were held, nearly nine out of 10 would vote to remain in the EU.
But this wasn't a poll of shadow cabinet members.
Nine of Jeremy Corbyn's top team are very, very sceptical of – or opposed to – another referendum.
And most of these are his political allies.
Public vote, private fears
The man he installed as Labour Party chairman – Ian Lavery – is reported to have offered his resignation twice because he broke the party whip and failed to back a referendum in the recent indicative votes. Twice Mr Corbyn refused to accept it.
From a Leave-supporting area in north east England, Mr Lavery is convinced Labour would pay a high political price if it is seen to be disrespecting the result of the 2016 referendum.
It's interesting that the elections co-ordinator, Andrew Gwynne, who is not as close to Mr Corbyn, takes a similar view.
So far, a formulation around the question of a second referendum has just about maintained a show of unity from senior figures in public – though this is now fraying.
The form of words deployed is that Labour would support a "public vote" in order to avoid "a hard Tory Brexit" or "no deal".
But these caveats now worry supporters of a referendum in the party – including some who sit at Mr Corbyn's top table.
The fears are fuelled by the current cross-party talks.
Because if Mr Corbyn was to reach a deal with Theresa May which avoids "a hard Tory Brexit", would the referendum commitment melt away?
Shadow boxing
Shadow foreign secretary Emily Thornberry was so concerned she wrote to shadow cabinet colleagues last night to argue that ditching a public vote on any deal – including one hammered out with the prime minister – would breach party policy and would require a vote of the whole shadow cabinet.
At last night's special meeting of shadow ministers, I am told Ms Thornberry's possible leadership ambitions were aired. (She couldn't be there for family reasons).
Key figures in Mr Corbyn's office were furious at her intervention.
But the party's deputy leader Tom Watson –