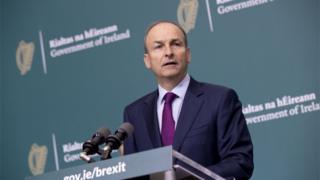 Image copyright PA Media Image caption Micheál Martin says "trust has been eroded" by Prime Minister Boris Johnson
The taoiseach (Irish PM) has said he is not optimistic of a Brexit deal in light of the UK proposal to override parts of the Withdrawal Agreement.
Micheál Martin told Irish broadcaster RTÉ "trust has been eroded" by the move by Prime Minister Boris Johnson.
"The stakes are higher now because of the British action," he said.
Critics have said the proposed Internal Market Bill, published on Wednesday, would "tear up" the existing withdrawal agreement.
The bill proposes no new checks on goods moving from Northern Ireland to Great Britain.
It gives UK ministers powers to modify or "disapply" rules relating to the movement of goods that will come into force from 1 January, if the UK and EU are unable to strike a trade deal.
'Outright opposition'
Taoiseach Micheál Martin said the bill is likely to impact further negotiations.
"The publication of the bill signals an attempt by the UK government to essentially break its commitment entered into an international agreement and that is very serious," he said.
"I think the European Union leadership will be very concerned in how negotiations go from here."
Ahead of emergency Brexit talks between the EU and the UK, Taoiseach Micheál Martin speaks to RTÉ's Morning Ireland | https://t.co/uuMDDSAylc https://t.co/Q1SPK5BEgX
— RTÉ News (@rtenews) September 10, 2020
End of Twitter post by @rtenews
Mr Martin said he stressed his "outright opposition" to the move taken in a phone call with Mr Johnson on Wednesday night.
He said he pointed out very strongly it was "dragging Northern Ireland" back into the centre stage.
He said Britain signed up to the EU-UK Withdrawal Agreement and the Northern Ireland Protocol with a view to ensuring they wanted access to the European market.
"Trust has been eroded but he made it clear to me that the UK was fully committed to meeting the obligations of protecting the single market and fluidity of trade north and south. The legislation runs counter to that."
'Don't imperil Good Friday Agreement'
His comments came after US Speaker of the House Nancy Pelosi warned there will be "absolutely no chance" of a US-UK trade agreement if Brexit undermines the Good Friday Agreement.
Image copyright EPA Image caption Nancy Pelosi said Brexit cannot be allowed to threaten the Good Friday Agreement
Speaker Pelosi issued a statement on Wednesday praising the Good Friday Agreement as NI's "bedrock of peace".
She said Brexit cannot be "allowed to imperil"