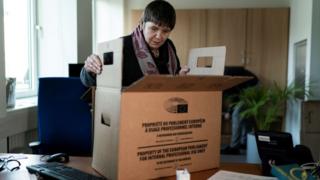 Image copyright Getty Images Image caption Brexit Party MEP Claire Fox says she is "relieved" at her exit, as "a democratic mandate's been realised"
As the clock strikes 23:00 GMT on Friday, 31 January, the 73 MEPs who represent Great Britain and Northern Ireland in the European Parliament will bid farewell to their roles.
For some of them, there is only delight and relief as the UK approaches Brexit. For others, there have been tears and goodbye hugs.
"How I am feeling is how somebody feels when you have a redundancy and a bereavement at the same time," says Green MEP Molly Scott Cato, who has represented south-west England since 2014.
It's been a tearful goodbye and a "grim, grim week", she says, during a break from packing up her Strasbourg office.
But, in contrast, Brexit could not have come soon enough for Jake Pugh.
"We are delighted," says the Brexit Party MEP for Yorkshire and the Humber. "We were hired to be fired."
He is one of 29 Brexit Party MEPs who were elected in last May's European elections – a vote many considered as confirmation of the UK's desire to leave the EU.
Image copyright Reuters Image caption The pro-EU Liberal Democrats won 16 seats in the European elections – many of them are sad to leave
The poll had also brought hope, however, for pro-EU Liberal Democrat MEPs who also enjoyed a successful campaign, winning 16 seats. They entered the parliament wearing yellow "stop Brexit" t-shirts.
Nine months on there remains a clear divide over Brexit among the MEPs, but the politicians appear united about a feeling of pride at what they have achieved.
"There has been so much warmth and comradeship," says Labour's Seb Dance of his final week in Strasbourg. "Most people are pretty sad about the whole thing."
The Labour MEP for London had previously campaigned for another vote on the UK's membership of the EU.
'Truly grateful'
Speaking to the BBC as he dashes between trains in Paris, he says he is proud of the things that "never got the headlines" during his six years in the role.
He highlights his involvement in the European Parliament's special inquiry committee into the Volkswagen emissions scandal.
Image Copyright @JackieJonesWal1 @JackieJonesWal1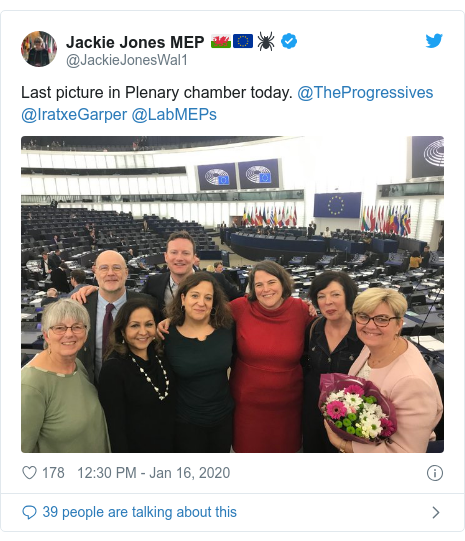 Image Copyright @JackieJonesWal1 @JackieJonesWal1
Report
Ms Scott Cato says she is proud of her work on the issue of sustainable finance and new EU restrictions on the use of antibiotics in farms.
The European Parliament is a "real parliament",