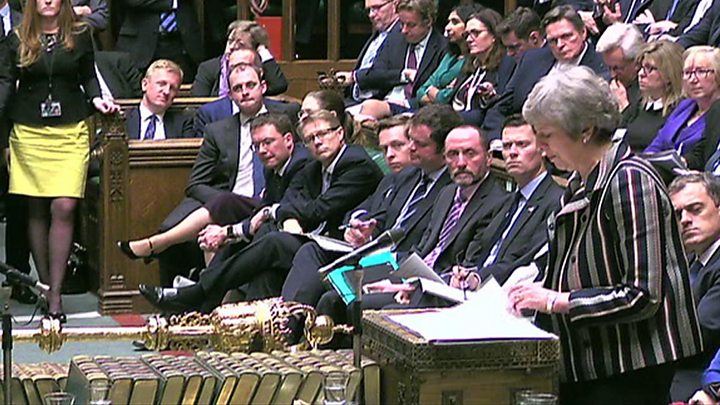 Media playback is unsupported on your device
Media captionTheresa May on Northern Ireland backstop: "This is an insurance policy on-one wants to use."
Theresa May has defended her proposed Brexit deal in the Commons in the face of sustained criticism from the opposition and many Conservative MPs.
The PM said Sunday's agreement honoured the 2016 referendum vote and maintained a close partnership with the EU.
But she admitted she was not "entirely happy" with the "backstop" contingency plan to avoid a hard border in Ireland.
Jeremy Corbyn said "ploughing on" with a deal opposed by the public and MPs was an "act of national self-harm".
The Labour leader suggested Parliament would have "little choice" but to reject the deal when MPs vote on it – expected to be in a fortnight's time.
And a host of former cabinet ministers, including Iain Duncan Smith, Boris Johnson, Owen Paterson, Michael Fallon and Dominic Grieve, also said the deal was unsatisfactory.
Cabinet ministers have accepted that Mrs May faces an uphill struggle in persuading Parliament to accept the terms of the UK withdrawal and a political declaration on future relations.
In her statement to MPs, Mrs May said there had been "give and take" in the 19-month negotiations but the final agreement "delivered for the British people" by regaining control of laws, money and borders.
She acknowledged concerns over arrangements to avoid the return of physical checks on the border between Northern Ireland and the Republic of Ireland, which could see the UK entering a customs arrangement with the EU.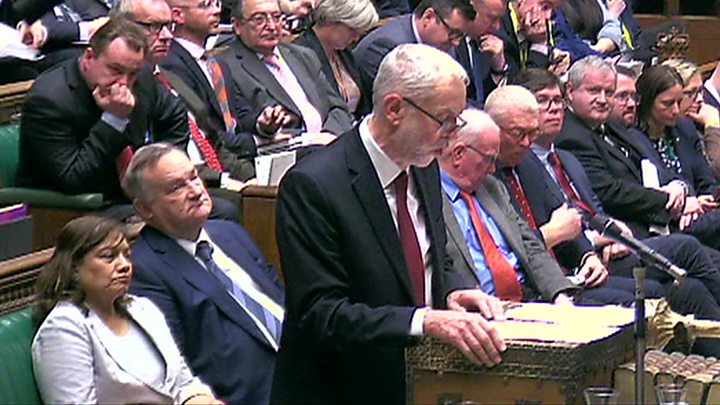 Media playback is unsupported on your device
Media captionJeremy Corbyn: "Even the prime minister's own cabinet can't bring themselves to sell this deal."
She said the backstop was an "insurance policy that no-one wants to use" and insisted the UK would have the right to determine whether it came into force if the UK's future relationship was not settled by the end of 2020, as she hoped it would.
She said it would be a temporary mechanism and the UK would have the right to seek arbitration over how and when it would end, if it was not "superseded" by a trade deal or other arrangements.
A backstop of some kind would be required, she said, due to the UK's obligation to uphold the Good Friday Agreement, adding "there is no deal that comes without a backstop and without a backstop there is no deal".
'Huge gamble'
She said she had stood firm in the face of repeated EU attempts to link access to British waters for their fishermen to future trade arrangements.