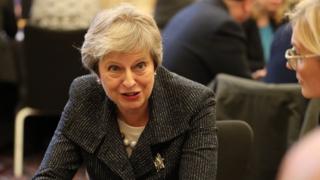 Image copyright Getty Images
Theresa May has denied claims from DUP leader Arlene Foster that she had "given up" on negotiations before agreeing the Brexit deal.
Mrs Foster said the PM's trip to promote the deal to businesses in Wales and Northern Ireland was a "waste of time" as Parliament would not back it.
Meanwhile, former defence secretary Sir Michael Fallon told the BBC the deal was "doomed" and must be renegotiated.
Mrs May insists it protects the "vital interests" of the whole of the UK.
After enduring criticism of the Brexit withdrawal agreement in the Commons on Monday, the prime minister began the next day rejecting US President Donald Trump's suggestions that the deal could threaten future US-UK trade deals.
And as she travelled to Wales and Northern Ireland, promising that her Brexit plans would strengthen "every corner" of the UK, she came under fire from Mrs Foster, whose party has a parliamentary pact to support the Conservative government in key votes.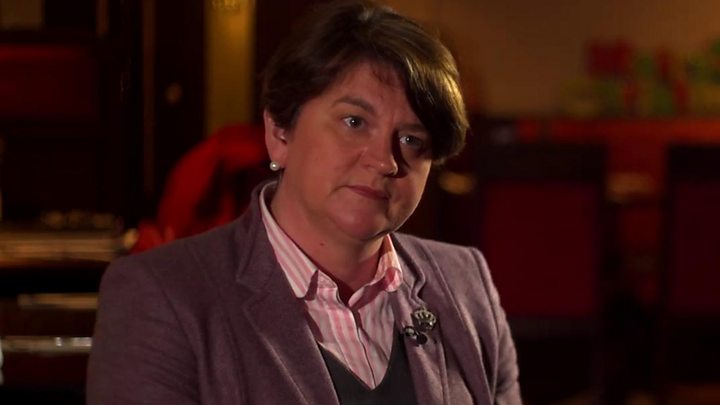 Media playback is unsupported on your device
Media captionFoster: This is not the right deal for Northern Ireland
"The disappointing thing for me is that the prime minister has given up and she is saying… we just have to accept it," Mrs Foster told the BBC's political editor, Laura Kuenssberg.
"She may have given up on further negotiations and trying to find a better deal but I have not."
Sir Michael Fallon's decision to come out against the deal is another blow to the prime minister, who is struggling to muster support in Parliament ahead of a Commons vote on 11 December.
Labour, the Lib Dems, SNP and Democratic Unionists have all said they will reject the terms of the UK's withdrawal, and future relations negotiated by Mrs May.
Many Tories have also said publicly they are opposed to Mrs May's Brexit deal with the EU. Brexiteers fear it will keep the UK too closely tied to EU rules, making it harder to strike future trade deals with other countries.
If MPs voted against the deal, the government would have up to 21 days to tell the Commons "how it proposes to proceed" and a further seven to move a motion allowing MPs to express their views.
New laws would have to be passed if the UK wanted to avoid the default position of leaving without a deal on 29 March next year.