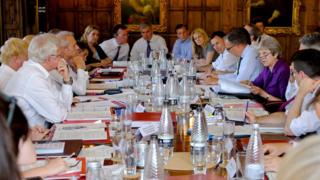 Image copyright Getty Images Image caption Theresa May presented her plans to cabinet ministers at Chequers last month
In recent days, letters from Theresa May have been landing on the doormats of Conservative Party members across the country – trying to win them over to her vision for Brexit.
The mailshot, seeking their backing for the proposals agreed at Chequers last month, also features positive messages from ministers and other big hitters in the party endorsing the package.
The proposals for how the UK can trade with the EU after Brexit have certainly proved controversial at Westminster, with several ministers quitting in protest.
So what do Tories at grassroots level think about it all?
"I am well aware of the strong feelings members of our party have on this important national issue," Mrs May writes.
And it is not hard to find frustrated members.
In the Wycombe constituency, represented by former Brexit minister Steve Baker, a survey found 78% of members were against what has become known as the Chequers plan.
The vice-chairman of the local Conservative Association, Peter Ward, resigned over the issue.
He says he will not campaign for a party that is "betraying" Leave voters.
"If I'm not happy with it, I can't then knock on doors and tell people, 'please carry on supporting us' if this is a complete sell-out," he says.
Image caption Big names in the Conservative Party are appealing to members to support the package
Key to the objections has been a free trade area for goods based on a "common rule book" with the EU, and a "combined customs territory" covering the UK and the EU – unhappy Eurosceptics say this means the UK will still be bound by EU rules.
Mrs May seeks to address this in her letter to activists – she says her long-stated red lines remain intact, with Britain leaving the single market and customs union and ending freedom of movement.
"We will take back control of our money, laws, and borders, and begin a new exciting chapter in our nation's history," she says, adding: "I know that some people are concerned that this common rule book will stop us doing trade deals. I can assure you this is not the case – and I would not be proposing it if it would."
'Express train for Corbyn'
But another member in Wycombe, Tom Pike, is worried the plan will hurt the Conservatives at the ballot box.
"My concern about Chequers is that it's possibly like a high-speed, express train for Jeremy Corbyn into Downing Street,"