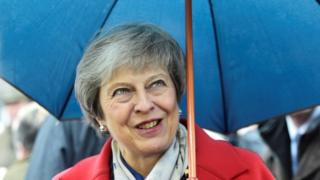 Image copyright Reuters Image caption The prime minister is struggling to secure enough support for her deal to get it through parliament when MPs vote next month
The prime minister is to visit Scotland on Wednesday as she seeks to build support for her Brexit deal ahead of next month's vote in the Commons.
Theresa May will insist that the deal will protect jobs and provide new opportunities for exporters as she meets factory workers in Glasgow.
Her Brexit agreement won the support of EU leaders at the weekend.
But it has faced strong criticism from opposition parties – as well as from many of her own MPs.
The prime minister's visit comes a day after First Minister Nicola Sturgeon unveiled an analysis paper which claimed that the Brexit deal could cost Scotland £9bn a year by 2030, compared to if it had remained in the EU.
Ms Sturgeon, who wants the UK to remain permanently in the single market and customs union and has backed calls for another referendum on the Brexit terms, has said the SNP's 35 MPs at Westminster will vote against the deal on 11 December.
The proposals are also opposed by Labour, the Liberal Democrats, the Democratic Unionists and many Conservative MPs on both sides of the Brexit debate.
It means Mrs May currently looks unlikely to win parliament's backing for the deal, which she has warned is the only one on the table – and that voting it down would result in the UK leaving the EU on 29 March next year without any deal in place.
Ahead of the prime minister's visit to Scotland, the UK government said the deal reached in Brussels on Sunday creates a free trade area for goods with no tariffs, fees or charges – which it says is the first agreement of its kind between an advanced economy and the EU.
It has highlighted the support the deal has received in recent days from Diageo, National Farming Union Scotland, the Scotch Whisky Association and BAE Systems, who have also warned about the consequences of "no deal" for Scotland.
On Wednesday, Jim Ratcliffe – the owner of chemicals giant Ineos, which operates the Grangemouth facility – said Mrs May's deal had his "full support" as it was a "pragmatic and sensible arrangement".
The company said its analysis showed a no-deal Brexit would carry "significant risk" for its business, and urged MPs to "put the good of the country ahead of political considerations and ensure a safe passage for the deal through Parliament."