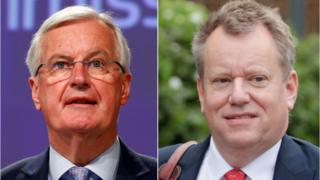 Image copyright Reuters / EPA
The UK and EU have said they still remain some way off reaching a post-Brexit trade agreement, following the latest negotiations in London.
EU chief negotiator Michel Barnier said a deal looked "at this point unlikely" given the UK position on fishing rights and post-Brexit competition rules.
His UK counterpart David Frost said "considerable gaps" remained in these areas, but a deal was still possible.
The UK has ruled out extending the December deadline to reach a deal.
This was the second official negotiation round to be held in person since the coronavirus crisis, after both sides agreed to "intensify" talks in June.
The two sides' chief negotiators are due to meet informally in London next week, with another round of official talks scheduled for mid-August in Brussels.
Speaking after the talks, Mr Barnier said the UK had not shown a "willingness to break the deadlock" over fisheries and post-Brexit rules on competition.
"By its current refusal to commit to conditions of open and fair competition and to a balanced agreement on fisheries, the UK makes a trade agreement at this point unlikely," he told reporters.
He said there was a risk of no deal being reached unless the UK changed course on the topics, which were "at the heart" of the EU's trade interests.
He added that an agreement would be needed by October "at the latest" so it could be ratified before the current post-Brexit transition period ends in December.
'Pragmatic approach'
In a statement, Mr Frost said fisheries and the rules on competition – known as "level playing field" provisions – remained the "most difficult areas".
He said he still believed a deal could still be reached in September, but the government must "face the possibility" one will not be struck.
But he added the EU had shown a "pragmatic approach" over British demands to limit the role of the European Court of Justice after the transition period ends.
If the last four years, or even 40 years, have taught us anything about negotiations and the European Union, it is that they go on a bit and rarely are they concluded without the deadline being not just imminent, but, well…pretty much now.
And this is not that point, yet.
It was always very unlikely this would be the moment where a document would be pulled triumphantly from the inside of a suit pocket,