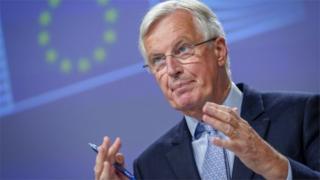 Image copyright Getty Images
The post-Brexit trade talks between the UK and the EU were never going to be easy.
The UK left the EU on 31 January and we're now in a transition period until the end of the year, with all the rules and regulations and budget payments staying the same.
That means time is of the essence and to make matters worse, the talks have been taking place via video link, in the long shadow cast by the coronavirus crisis.
So there have been no chances for informal chats in the corridors to try to push things forward.
But as the EU's chief negotiator Michel Barnier said, that's not the only reason that little progress has been made after four rounds of negotiations.
It's mainly a matter of substance.
Comprehensive deal?
There's no agreement so far on even the basic structure of what they're trying to negotiate.
The EU wants one comprehensive deal covering all aspects of the future relationship, not just trade. But the UK sees that as an effort to keep it tied more closely than it wants to European institutions and ways of doing things.
The UK argues there should be a series of separate agreements, including a basic free trade deal. But the EU sees that as another example of the UK trying to cherry-pick the benefits it wants, while avoiding the obligations of EU membership.
Key disagreements
There are also specific issues on which negotiators have hit a bit of a brick wall.
First of all, there is what is known as the level playing field. That means measures to ensure businesses on one side don't have an unfair advantage over their competitors on the other.
All trade agreements have such measures, but the EU wants the UK to stick particularly closely to EU rules on things like workers' rights, environmental regulations and state aid, or subsidies for business.
Then there is fishing: the UK would like full access to the EU market to sell its fish there, but in return the EU wants full access for its boats to fish in UK waters. British negotiators say that's not possible because the UK is now an independent coastal state.
Fishing makes up only a tiny part of the economy on both sides, but it was a big part of the Leave campaign that won the Brexit referendum in the UK in 2016.
Image copyright Getty Images
A third important area of disagreement is what is described as the governance of any future agreement. That is partly about the overall structure of the deal,