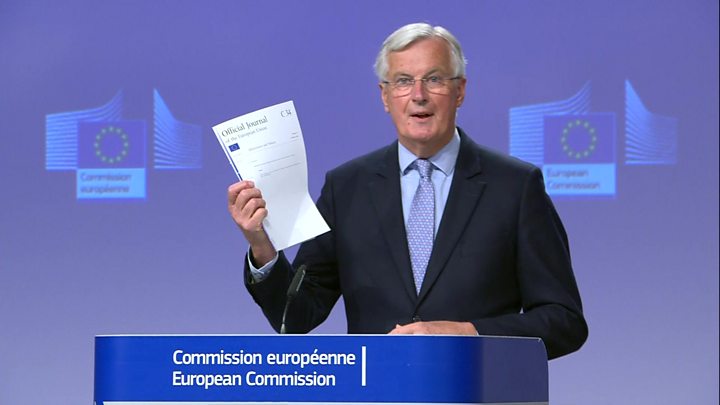 Media playback is unsupported on your device
Media captionBrexit: Barnier on UK approach to EU trade talks
EU chief negotiator Michel Barnier has accused the UK of "backtracking" on its commitments in the latest round of post-Brexit trade talks.
He said no "significant progress" had been made this week, and insisted the UK "respect" negotiation rules.
But the UK said the talks had been "positive" and it remained "committed to a successful outcome".
The two sides are opposed over issues including fishing rights, competition rules and police cooperation.
This week's discussions – held online – were seen as the last chance to make progress on these ahead of a summit that is expected take place later this month, involving Prime Minister Boris Johnson and European Commission President Ursula von der Leyen.
The UK has until the end of June to ask for the "transition period" – during which the country stays in the single market and customs union – to be extended into next year. But Mr Johnson has ruled this out.
Speaking in Brussels, Mr Barnier said: "My responsibility is to speak to truth and, to tell the truth, this week there have been no significant areas of progress."
He accused the UK of "continuing to backtrack" on commitments it made in the political declaration signed with the EU and outlining terms for negotiations, adding that it should be treated with "full respect".
On the transition period, he said: "We have always been open to the possibility of an extension of one or two years – as is possible under the exit agreement. And our door remains open."
'Positive tone'
Downing Street has accused the EU of making a series of "unbalanced" demands binding the UK to EU laws and standards to an unprecedented degree for a trade deal.
UK chief negotiator David Frost said: "We continue to discuss the full range of issues, including the most difficult ones. Progress remains limited but our talks have been positive in tone."
He added: "We are now at an important moment for these talks. We are close to reaching the limits of what we can achieve through the format of remote formal rounds."
Businesses – hit by the coronavirus pandemic – have raised concerns over a possible "cliff-edge" break to the UK's remaining access to the EU singl