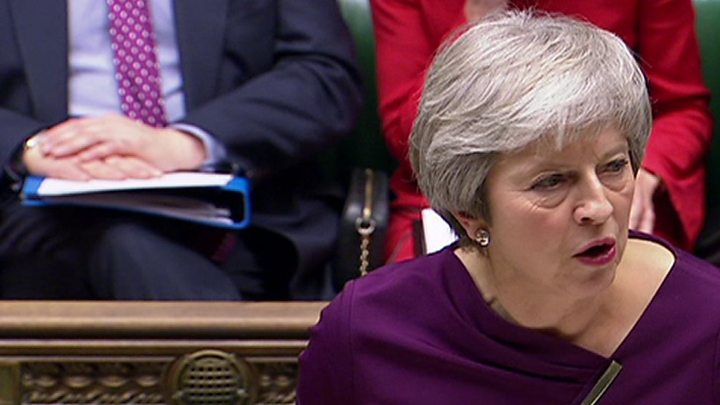 Media playback is unsupported on your device
Media captionTheresa May: "I went to the G20 with a clear message that Britain is open for business"
The UK is committed to doing trade deals beyond Europe as soon as possible after Brexit, Theresa May has said.
The PM told MPs she had had discussions at last week's G20 summit on ambitious economic partnerships with Australia, Chile, Canada and Japan among others.
She said she had also had a positive conversation with Donald Trump.
But Jeremy Corbyn said the US President had rejected her Brexit deal "because it did not put America First" and her plan was based on "vague assumptions".
During a Commons statement on the two-day gathering in Buenos Aires, the two leaders also clashed over the PM's meeting with the Crown Prince of Saudi Arabia, Mohammad Bin Salman.
Mrs May said she had had a "frank and open" conversation with him about the need for a thorough and transparent inquiry into the murder of Saudi journalist Jamal Khashoggi at the Saudi consulate in Istanbul, and for the perpetrators to be held to account.
'Warm words'
But the Labour leader said all Mrs May had done was offer "warm words" when firm action was needed in response to the killing, and to Saudi Arabia's role in the bloody conflict in the Yemen.
He asked Mrs May when the UK would follow the lead of other countries by ending all arms sales to the Saudi regime.
"Rather than be robust, as she promised, we learned the prime minister told the dictator 'please don't use the weapons we are selling you in the war you're waging' and asked him nicely to investigate the murder he allegedly ordered," he said.
"Leaders should not just offer warm words against human rights atrocities but back up their words with action."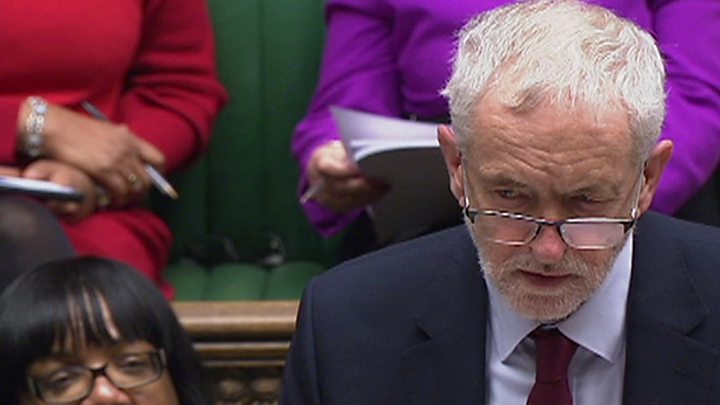 Media playback is unsupported on your device
Media captionCorbyn: G20 'too slow' to respond to financial crash
On trade, Mrs May said the UK's proposed withdrawal agreement from the EU, which MPs will vote on next week, would allow it to negotiate, sign and ratify new trade deals from the moment it leaves next March.
Although any deals cannot be implemented until the end of the transition period, due to end on 31 December 2020, she suggested aspects of them could be "brought into practice" before then.
Mr Trump has cast doubt on the proposed Brexit deal, suggesting it would tie the UK too closely to EU rules, and could hamper a future bilateral trade deal with the US.
But Mrs May said the US President,