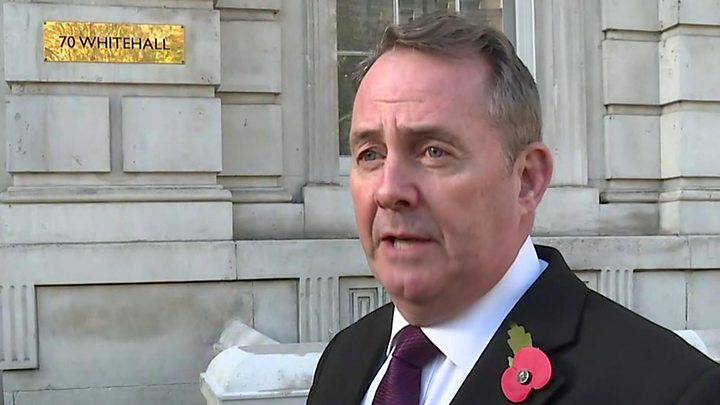 Media playback is unsupported on your device
Media captionLiam Fox: UK must be able to end backstop
The UK must have the power to end any post-Brexit "backstop" customs accord with the EU on its own, International Trade Secretary Liam Fox has said.
The Brexiteer said the UK had voted to leave the EU and "that decision can't be subcontracted to somebody else".
The UK and EU want to avoid a hard Irish border after Brexit but cannot agree on how to do so.
The EU has said it cannot agree to any arrangements which could be left unilaterally by the UK.
Prime Minister Theresa May is keen to reach a withdrawal agreement with the EU this month.
But her cabinet has been unable to agree on the mechanism for ensuring that there will be no return to border checks if a future trade deal is not ready in time.
Q&A: The Irish border Brexit backstop
One option could be for the whole of the UK to remain temporarily aligned to the EU's customs union, avoiding the need for customs checks at the border until a free trade deal is ready.
But Leave campaigners want a clear exit strategy from any such arrangement.
Mr Fox told reporters: "We have an instruction from our voters to leave the European Union. That decision can't be subcontracted to somebody else. That needs to be an issue for a sovereign British government to be able to determine."
Earlier this week Simon Coveney, Ireland's foreign minister, tweeted that "a backstop that could be ended by UK unilaterally would never be agreed to" by Ireland or the EU.
'Pushing it'
In Paris earlier, Foreign Secretary Jeremy Hunt said negotiations with the EU were "in the final stage" and he was confident an agreement could be reached.
But asked if a deal could be reached in the next week, he said: "I think seven days is probably pushing it but I am optimistic. I am optimistic that there will be a Brexit deal but I wouldn't want to be drawn on a specific timetable."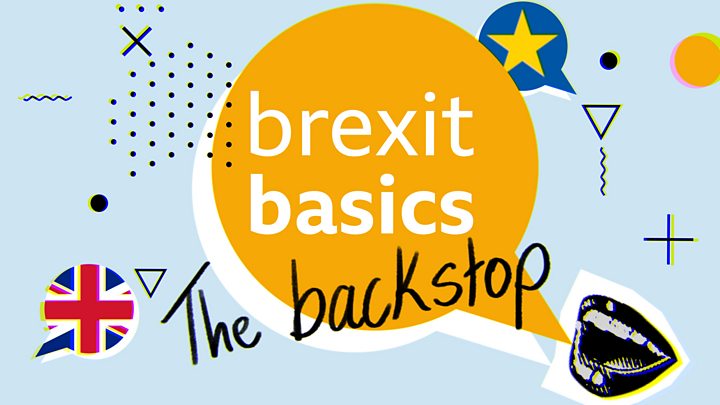 Media playback is unsupported on your device
Media captionConfused by Brexit jargon? Reality Check unpacks the basics.
Mr Coveney told the Irish Canada Business Association conference in Dublin: "I would urge caution that an imminent breakthrough is not necessarily to be taken for granted, not by a long shot.