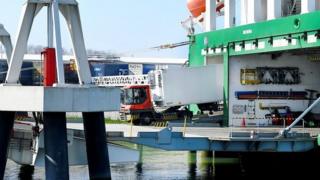 Image copyright Reuters
"Very little progress" has been made in the latest round of UK-EU trade talks, the UK government has said.
The UK's negotiator David Frost said a far-reaching free trade agreement could be agreed before the end of the year "without major difficulties".
But it was being held up by the EU's desire to "bind" the UK to its laws and seek unfair access to fishing waters.
The EU's Michel Barnier suggested the UK's own demands were "not realistic" and warned of a looming stalemate.
Speaking in Brussels, the bloc's chief negotiator said "no progress had been made on the most difficult issues".
Asked by the BBC's Europe editor Katya Adler what the chances were of an agreement. Mr Barnier said he was "still determined but not optimistic".
The EU, he added, would not accept a deal "at any price" and it was stepping up preparations for a no-deal outcome, in which the two sides would trade with each other under World Trade Organisation rules.
Insisting the EU would not negotiate "in haste", he said the UK must consider whether it was feasible to strike a deal before the end of 2020, when the current 11-month transition period is due to end.
The UK has said it will not extend the process beyond 31 December, despite coming under growing pressure at home to allow more time for a deal due to the coronavirus pandemic.
The two sides have been discussing their future economic and security partnership following the UK's withdrawal from the 27-member bloc on 31 January.
In a statement, Mr Frost said there was a "good understanding" between the negotiators but that little or no progress had been on the most "significant outstanding issues".
The dancing's over
Analysis by Gavin Lee, Brussels reporter
Former EU Commission President Jean-Claude Juncker used to describe Brexit talks as being like a "dance" and regularly rolled out the stock phrase that "it takes two to tango".
There's no dancing anymore. Today Michel Barnier made clear he'd rejected any such romantic terms for these trade negotiations, telling reporters it was neither "a dance nor a tango or any other kind of dance".
He said the teams weren't "even in the same room" and this wasn't nearly as effective as getting together around a table.
The hours of screen time have led to an impasse, with both sides now urging the other to change strategy, and to understand the other's position more clearly.
I spoke to Spanish and French diplomats in Brussels.