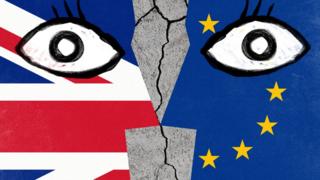 Theresa May is trying to persuade European Union (EU) leaders to extend the Brexit deadline, amid political deadlock at home. British MPs have rejected her divorce deal with the EU three times.
As things stand, the UK is scheduled to leave the EU on 12 April – without an agreement.
The UK government has stepped up its planning for a no-deal Brexit, covering areas such as transport, healthcare, energy, food and water.
What is the EU doing to prepare for this scenario?
European Commission
The European Commission has set out its readiness for the "increasingly likely" chances of no deal. It covers basic arrangements for road hauliers, flights and financial services.
The Commission reiterated that these would not replicate the conditions of EU membership and said that it would be "required to immediately apply its rules and tariffs at its borders".
The document, however, did not mention what would happen to the Irish border.
The Commission has a website which links to advice from all of the EU member countries. Here are summaries of the measures taken by some of them.
Image copyright Getty Images Image caption The 499km (310-mile) Northern Ireland border would be hard to police
Ireland
The Republic of Ireland has been preparing for Brexit for a long time.
It's clear that a no-deal Brexit would raise serious questions for the Irish economy.
Ireland passed no deal Brexit legislation in February, which covers a number of important issues such as allowing for pension and other benefits to be paid, for cross-border rail and bus services to continue and for citizens to access services across the border as they do now.
But, the most important issue – the future of the land border with Northern Ireland – does not feature in the legislation.
Ireland, the UK and the EU all say they want to avoid any physical infrastructure at the border. But an EU official said checks on goods would need to be done and the EU and Ireland were working on carrying them out away from the border.
In the event of no deal, the EU would add new shipping links between Ireland and ports in France, Belgium and the Netherlands; the EU says funding for this would be a priority in its budget.
The Irish government has plans to expand port infrastructure in Dublin and Rosslare, to allow inspections of trucks arriving from the UK and of live animals, and to accommodate extra staff.
Image copyright Getty Images Image caption France is creating extra facilities in Calais,