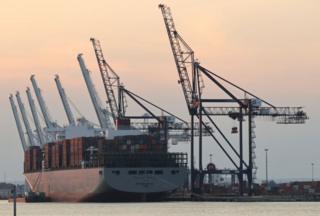 Image copyright Getty Images
The Foreign Secretary, Jeremy Hunt, says the chances of a "no deal" Brexit are "increasing by the day". The International Trade Secretary, Liam Fox, has been quoted as saying the chances of no deal are "60-40". And the governor of the Bank of England, Mark Carney, says they are "uncomfortably high."
There seems to be a pattern developing here.
Recent debate about no deal – which would mean the UK leaving the European Union (EU) next year without any withdrawal agreement – has focused on the fact that the UK would automatically fall back on World Trade Organization (WTO) trade rules. Those rules would apply automatically to UK trade with the EU and other countries with which the EU has free-trade deals.
So what would WTO rules mean in practice?
First, the basics. What is the WTO?
The WTO is the place where countries negotiate the rules of international trade – 164 countries are members and, if they don't have free trade agreements with each other, they trade under "WTO rules".
Which are?
Every WTO member has a list of tariffs (taxes on imports of goods) and quotas (limits on the number of goods) that they apply to other countries. These are known as their WTO schedules.
The average EU tariff is pretty low (about 2.6% for non-agricultural products) – but, in some sectors, tariffs can be quite high.
Under WTO rules, cars and car parts, for example, would be taxed at 10% every time they crossed the UK-EU border. And agricultural tariffs are significantly higher, rising to an average of over 35% for dairy products.
After Brexit, the UK could choose to lower tariffs or waive them altogether, in an attempt to stimulate free trade. That could mean some cheaper products coming into the country for consumers but it could also risk driving some UK producers out of business.
It's important to remember that, under the WTO's "most favoured nation" rules, the UK couldn't lower tariffs for the EU, or any specific country, alone. It would have to treat every other WTO member around the world in the same way.
Image copyright Getty Images Image caption WTO tariffs on dairy products average over 35%
What about other checks and costs?
These are what are known as "non-tariff barriers" and include things such as product standards and safety regulations. Once the UK is no longer part of the EU, there needs to be a system for mutually recognising each other's standards and regulations. Under a no deal Brexit this may not happen, at least not immediately.
You can argue that it might seem unreasonable if the EU was to go from imposing no checks on UK products at borders the day before Brexit,