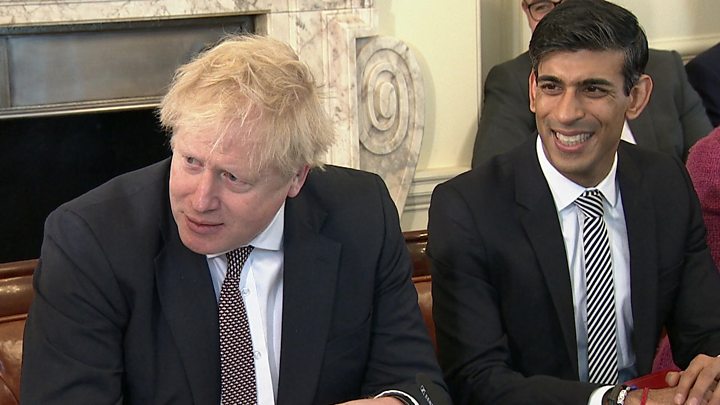 Media playback is unsupported on your device
Media captionNew Chancellor Rishi Sunak was all smiles as the new cabinet met for the first time
Boris Johnson has told his new cabinet to focus on delivering Tory election promises following a reshuffle that saw Sajid Javid quit as chancellor.
Addressing his new team in Downing Street, the PM said they must get on with the "basic work" of improving lives and spreading opportunity.
Mr Javid quit on Thursday after he was told he could keep his job but only if he fired his team of advisers.
His successor Rishi Sunak has said he has "lots to get on with".
Opening Friday's cabinet meeting, the PM congratulated those present on "achieving or retaining" their cabinet jobs after a wide-ranging shake-up which saw a host of senior figures sacked.
"We have to repay the trust of people who voted for us in huge numbers in December and who look forward to us delivering," he said.
Mr Javid, who had been due to deliver his first Budget in March, said he was left with "no option" but to resign because "no self-respecting minister" could accept the prime minister's demands.
His departure from the cabinet follows rumours of tension between Mr Javid and the prime minister's senior adviser, Dominic Cummings.
In his resignation letter, Mr Javid – who was in his Bromsgrove constituency on Friday opening a Pensioners Fair – said: "I believe it is important as leaders to have trusted teams that reflect the character and integrity that you would wish to be associated with."
Downing Street said there would now be a joint team of economic advisers for both the chancellor and prime minister.
Losing a chancellor is no small event, and it wasn't what Boris Johnson set out to do.
But yesterday shows that No 10's priority was political control rather than keeping personnel they valued. When Mr Javid refused, they chose instead to see him leave.
This begs a wider question – is it stronger to share power or hoard it?
Boris Johnson and his team have made the choice to do the latter – to lose a chancellor rather than allow a rival faction offering different political advice to the next door neighbour.
Mr Sunak, who was previously Mr Javid's deputy at the Treasury, has addressed staff in the department following his unexpected promotion.
Skip Twitter post by @RishiSunak
Great to speak to @HMTreasury this morning about our shared mission –