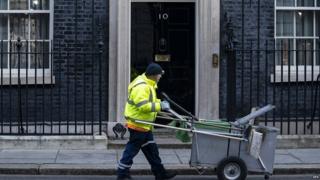 Image copyright EPA Image caption There are expected to be plenty of coming and goings at Downing Street
Senior ministers are bracing themselves for Boris Johnson's first major cabinet reshuffle since the Conservatives' general election victory.
The PM will make a number of changes over the next 24 hours although it is unclear how wide-ranging they will be.
Attorney General Geoffrey Cox said he would be "uncomplaining" if, as some expect, he is sacked or moved.
Defence Secretary Ben Wallace told the BBC reshuffles were often "brutal" but he was hopeful of staying in post.
Health Secretary Matt Hancock joked at an event in London: "It's a huge pleasure to be here, and with a government reshuffle in the offing it's a great time to be talking about longevity."
Most of the cabinet have only been in their current jobs for just over six months, having been appointed when Boris Johnson became prime minister in July.
The PM left his cabinet largely untouched following his party's decisive election victory in December, pending what sources suggested at the time would be a more significant overhaul after the UK left the EU on 31 January.
Senior figures such as Chancellor Sajid Javid, Foreign Secretary Dominic Raab and Home Secretary Priti Patel are not expected to be moved but others are considered more vulnerable.
The day before a reshuffle is a time of high anxiety for Cabinet ministers, who have been told to cancel all engagements so they are available to take a call from the PM.
One told me that they're all paranoid, but desperately pretending not to be.
After the election, there were well-briefed reports that there would be a reorganisation of Whitehall departments and a Cabinet cull.
But it's just seven months since Boris Johnson took over from Theresa May and got rid of most of her ministers. The speculation now is of a more limited reshuffle.
All eyes will be on Michael Gove who has been tipped to be the minister to oversee Brexit trade talks.
As for who could be on the way out, the names that crop up most among ministers are Andrea Leadsom and Theresa Villiers, but Downing Street will be mindful of gender balance in the top team.
A modest reshuffle would also encourage Conservative MPs to stay loyal, in the hope of promotion further down the line.
Mr Wallace, one of those whose future is reportedly in doubt, said it was up to the prime minister who was in his top team.
"I've been in this game long enough to know that British cabinet reshuffles are brutal,"