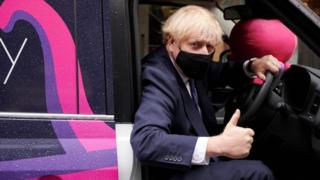 Image copyright PA Media
The UK can and will "build back better".
The Conservatives' theme at their virtual party conference this week is a message that Boris Johnson has sought to impart continuously since the country emerged from lockdown in early July.
But as the prime minister prepares to deliver his leader's speech on Tuesday, his party is facing up to the impact that the worst public health crisis for a century is likely to have on its ability to deliver on its promises to voters.
The PM has insisted his mission of national renewal, the "levelling-up" agenda which was a key backdrop to the Tories' thumping victory in December's election, has not been put to one side in the national struggle against Covid.
He says the programme, which the party describes on its conference website as "driving lasting change in parts of the country forgotten by successive governments", is being accelerated, rather than slowed, by the pandemic.
'Blue wall'
And the rush of announcements made during the four-day event and beforehand suggest the government knows it cannot afford to lose sight of its over-riding objective, that is to give those living outside London and the south of England a better chance in life and bigger slice of the economic cake.
In his own speech, the PM will earmark £160m to upgrade ports and infrastructure in Teesside, the Humber and other areas as part of a drive to make the UK a world-leader in low-cost green energy.
Elsewhere, the lion's share of a £80m fund for local regeneration projects is going to towns in the North East, North West and Yorkshire, a review of transport links will look at upgrading the A1 in Northumberland, while a shake-up of vocational education will pay for all 18-year-olds without an A-level to take a college course.
These are all consistent with the Tories' promises in their election manifesto to share prosperity and opportunities more equally across the UK and to boost economic performance beyond the capital.
The party is also seeking to leave a more permanent imprint of its own by opening a second HQ in Leeds while creating a fighting fund to help its MPs defend the dozens of "Red Wall" seats snatched from Labour in December, some of which turned blue for the first time in electoral history.
But as Conservative activists grapple with the role that transport, green and digital technologies will play in the UK's post-Covid recovery, the legacy of what is the UK's deepest post-war recession cannot be ignored.
'Daunting task'
The Institute for Fiscal Studies says the government faces a "daunting task"