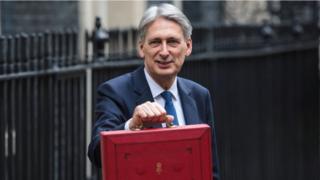 Image copyright Jack Taylor
This year's Budget is to be earlier than usual to avoid clashing with the final stage of Brexit negotiations in November.
The date of the Budget, 29 October, also fits in with ministers' availability and official data releases, a Treasury spokesman said.
The Budget will also be a week after a high profile Brussels Brexit summit.
Mr Hammond gave the date in a tweet, saying the government's approach to the economy was "getting debt falling".
The event will be three weeks earlier than last year and will come after a meeting of EU leaders on 18 October in Brussels, described by European Council President Donald Tusk as the "moment of truth" for reaching a deal.
Mr Tusk has also said that "if the conditions are there" an additional summit would be held in November to "formalise" a Brexit deal.
Skip Twitter post by @PhilipHammondUK
I'm pleased to announce the Budget will take place on 29 October.
I'll set out how our balanced approach is getting debt falling while supporting our vital public services, and how we are building a stronger, more prosperous economy. pic.twitter.com/FKafI3kLO9
— Philip Hammond (@PhilipHammondUK) September 26, 2018
End of Twitter post by @PhilipHammondUK
Budgets are traditionally given on a Wednesday.
This year the Wednesda