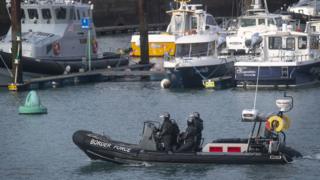 Image copyright PA
Home Secretary Sajid Javid is under increasing pressure to deal with the rising number of migrants crossing the Channel as he returns to the UK.
He has cut short his family Christmas break, but insisted there was "no one easy answer" as what he called a "major incident" unfolds off the south coast.
Labour said the government had "failed to get a grip" and one Tory MP said there had been a "lack of leadership".
More than 220 people have attempted the crossing in small boats since November.
They include six men, all Iranian nationals, who were found on a beach at Kingsdown, near Deal, in Kent, on Sunday morning. They have now been transferred to immigration officials.
Image copyright Lewis Morris Image caption Six men were found on Kingsdown beach on Sunday
Image copyright Lewis Morris Image caption The group was found alongside a rigid-hulled inflatable boat
'Grave concern'
Mr Javid is arriving back home on Sunday and immigration minister Caroline Nokes said he would be at his desk on New Year's Eve, adding he was "taking control of the situation" and that she had been "in regular contact" with him.
French Interior Minister Christophe Castaner said he had spoken by phone to Mr Javid, and that they were working together "to combat Channel crossings".
In a tweet, Mr Javid thanked him for the "partnership", saying the UK and France would "build on our joint efforts to deter illegal immigration – protecting our borders and human life".
Many of the migrants are thought to be Iranian or Syrian. A BBC South East investigation last month found that people smugglers were telling migrants they must enter before "the borders shut properly" after Brexit.
One man from Afghanistan told the BBC that "there is a rush" and "everyone is talking about it, saying we need to get in quick in case the security gets tighter".
Mr Javid has said it was of "grave concern" that people have been attempting to make the dangerous journey, including 12 men who were detained off the coast of Dover on Friday.
One refugee group said they believed most of those trying to cross were Kurdish people from Iran.
Bridget Chapman of Kent Refugee Action Network said they could have genuine asylum claims and should not have to "risk their lives".
"The government needs to find a way to process their claims in France instead and then transfer them,"