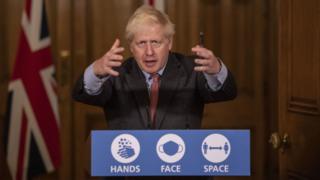 Image copyright PA Media
Boris Johnson is being urged to show he has got his "mojo" back, as the Conservatives' virtual conference gets under way.
In January, the prime minister predicted that 2020 would be a "fantastic year for Britain".
As forecasts go it was not the finest. Of course, no one could have predicted a global pandemic, and the impact it has had on the country's economy and way of life.
And it is not hard to understand why his enthusiasm was uncurbed 10 months ago.
After the chaos of a hung parliament, he'd delivered an 80-seat majority – the best general election result for the Conservatives for more than 30 years – and he was about to "get Brexit done".
Rebellious noises
Some of his own colleagues believe he is a fairweather prime minister, and he's all at sea in turbulent political climes.
But even during the coronavirus lockdown – and just before he was taken in to hospital – on 3 April, polling company YouGov gave the Conservatives a 52-28 lead over Labour.
The main opposition party changed its own leader the day after.
But even by mid-May, the governing party was leading by 48% to 33% in a YouGov survey.
Going in to the virtual party conference season, the few clouds that were on the horizon in the spring now represent a gathering storm in the autumn.
With Labour leader Sir Keir Starmer spending some months accusing the government of lacking competence, a mid-September YouGov poll suggested Labour and the Conservatives were neck-and-neck, on 40% apiece.
Covid infections have risen significantly since the summer.
The prime minister himself seemed confused over some of the rules that he had introduced.
There were rebellious noises from a swathe of his own backbenchers over a lack of scrutiny.
'Dependent on Dom'
There is nervousness on the Conservative benches over just how many jobs the new Job Retention Scheme will actually retain.
And once private mutterings about the state of the prime minister's health have found their way in to the newspapers.
Image copyright Reuters Image caption Dominic Cummings remains the PM's closest adviser
In The Spectator (the magazine Boris Johnson once edited), columnist Toby Young concluded last month that the prime minister's critics had been right about "his inability to focus on anything for very long".
Yet only in April, the same Toby Young had defended the PM as a "remarkable individual"