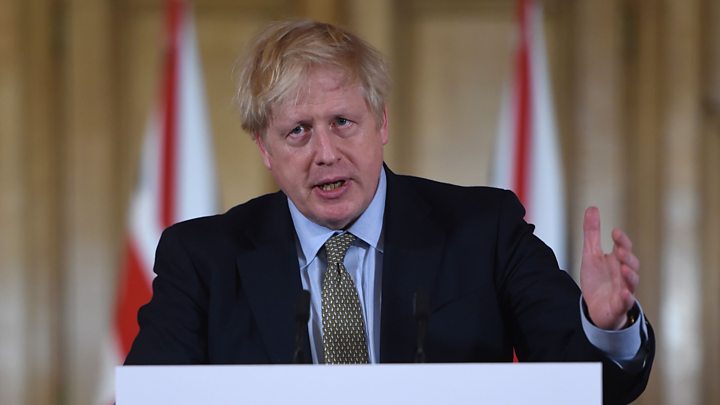 Media playback is unsupported on your device
Media captionThe prime minister spoke about why the decision to close schools was taken
The government has promised to give more details on how school closures will affect students and parents after criticism over a lack of clarity.
A list of the "key workers" during the coronavirus crisis – whose children can still go to school – will be released later, the education secretary said.
He added more details would be given on Friday on how pupils would be awarded grades after some exams were cancelled.
Meanwhile, Downing Street dismissed suggestions of a travel ban in London.
The prime minister's official spokesman said: "There are no plans to close down the transport network in London and there is zero prospect of any restrictions being placed on travelling in and out of London."
Elsewhere, the government's chief medical adviser, Prof Chris Whitty, said the track of the UK epidemic had followed the path "we thought likely".
It comes as Northern Ireland announced its first virus-related death, and three more deaths were confirmed in Scotland.
In other developments across the globe:
The EU's chief Brexit negotiator Michel Barnier tweeted he has tested positive for the virus
Asian countries are seeing a second wave of infections from people returning home
UK Foreign Secretary Dominic Raab said a number of British nationals – estimated at about 400, were trapped in Peru because of restrictions imposed in the country
Confirmed cases worldwide have passed 200,000, while almost 9,000 people have died
On Wednesday it was announced that schools in the UK would close their doors on Friday – except for vulnerable pupils or children of key workers.
GCSEs and A-Levels in England and Wales were also cancelled.
Decisions are due to be made in Scotland and Northern Ireland. Scotland's Education Secretary John Swinney said exams could still go ahead as planned or be re-scheduled.
Education Secretary Gavin Williamson told BBC Breakfast the Cabinet Office would release the full list of key workers later and parents not on the list would be "immediately aware" their child wouldn't be offered a place in school.