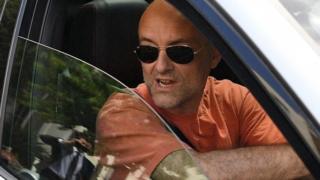 Image copyright Getty Images
The PM's top aide Dominic Cummings says he did the "right thing" by travelling 260 miles to be near relatives during the coranavirus lockdown – adding that he did not care what it looked like.
Mr Cummings is facing calls to resign over the journey, which he made when his wife had Covid-19 symptoms.
Downing Street said he wanted to ensure he had childcare if he got symptoms.
But Labour said that was not a satisfactory explanation and many people would be angry at his actions.
Mr Cummings told reporters he "behaved reasonably and legally" when asked about the trip from London to Durham.
Asked whether it looked good, he said: "Who cares about good looks? It's a question of doing the right thing. It's not about what you guys think."
Police said they attended a property in County Durham, after the Guardian and the Daily Mirror newspapers first reported Mr Cummings had been seen near his parents' home in early April.
Durham Police and Crime Commissioner Steve White said it had been "most unwise" for Mr Cummings to make the journey, "given the whole ethos" of the government's guidance.
In a statement, Downing Street said: "Owing to his wife being infected with suspected coronavirus and the high likelihood that he would himself become unwell, it was essential for Dominic Cummings to ensure his young child could be properly cared for.
"His sister and nieces had volunteered to help so he went to a house near to, but separate from, his extended family in case their help was needed. His sister shopped for the family and left everything outside.
"At no stage was he or his family spoken to by the police about this matter, as is being reported.
"His actions were in line with coronavirus guidelines."
The Scottish National Party has called for Mr Cummings to quit or be fired – and has written to Sir Mark Sedwill, the head of the civil service, calling for a swift investigation into the incident.
Labour has stopped short of calling for Mr Cummings' resignation, saying the government had questions to answer at its daily press conference at 16:00 BST.
A Labour spokesman said: "The lockdown rules were very clear: if you or anyone in your household was suspected of having Covid-19 you must immediately self-isolate and not leave the house," said a Labour spokesman.
"However, the prime minister's chief adviser appears to believe that it is one rule for him and another for the British people.