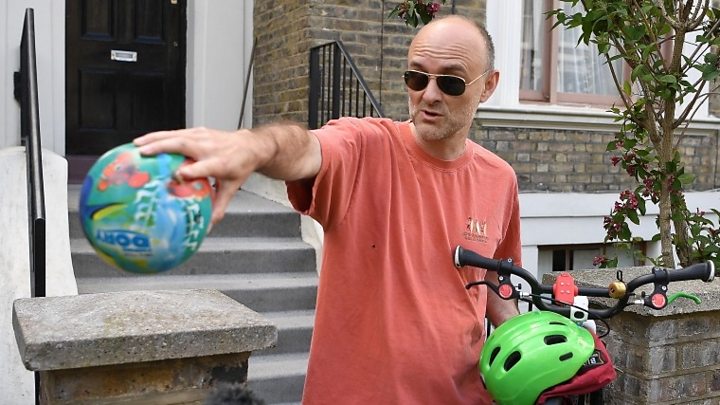 Media playback is unsupported on your device
Media captionDominic Cummings: "Who cares about good looks? It's a question of doing the right thing.'
The prime minister's chief aide Dominic Cummings is facing fresh allegations that he breached lockdown rules.
He and the government had said he acted "reasonably and legally" by driving from London to County Durham while his wife had coronavirus symptoms.
But the Observer and Sunday Mirror are now reporting he was seen a second time in the North East, after recovering from his own Covid-19 symptoms and returning to work in London.
No 10 said the story is "inaccurate".
Ministers said Mr Cummings and his wife had chosen to self-isolate at a property adjacent to other family members in case they needed help with childcare.
Speaking to reporters outside his home in London on Saturday, he said he would not be resigning and had done the "right thing" by travelling 260 miles with his wife and young son to be near relatives when she developed Covid-19 symptoms.
Transport Secretary Grant Shapps justified the adviser's trip, saying he "stayed in the same place" and was seeking support with childcare.
But the Observer and the Sunday Mirror said witnesses reported seeing Mr Cummings in Barnard Castle, more than 25 miles from Durham, on 12 April.
On 14 April, he was seen back at work in London. According to the papers, he was seen again in Houghall Woods near Durham on 19 April.
Mr Cummings is yet to respond to the new claims.
The story of Mr Cummings' journey to Durham originally appeared in the Guardian and Daily Mirror on Friday evening.
In response to the fresh claims in the papers' Sunday publications, Downing Street said: "Yesterday the Mirror and Guardian wrote inaccurate stories about Mr Cummings.
"Today they are writing more inaccurate stories including claims that Mr Cummings returned to Durham after returning to work in Downing Street on 14 April.
"We will not waste our time answering a stream of false allegations about Mr Cummings from campaigning newspapers."
Opposition parties renewed their calls for the prime minister's adviser to go.
The SNP's Ian Blackford said Mr Cummings "has to leave office", while acting Liberal Democrat leader Sir Ed Davey told BBC Radio 5 Live: "If Dominic Cummings has not been sacked by tomorrow, I think the prime minister's judgement is in serious doubt."
Government advice had been for people to stay at home during the first weeks of lockdown. Self-isolation at home continues to be advised for those with coronavirus symptoms.