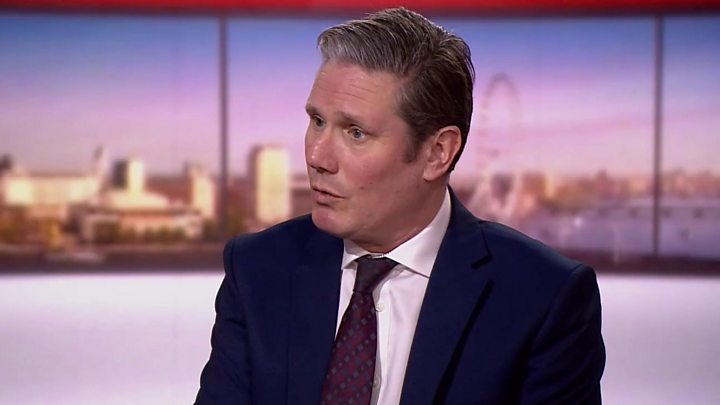 Media playback is unsupported on your device
Media captionSir Keir Starmer says the government still needs to be asked 'difficult questions' in the fight against coronavirus.
Key workers have been "overlooked and underpaid" and there will have to be a "reckoning" after the coronavirus crisis, the new Labour leader has said.
Sir Keir Starmer told the BBC's Andrew Marr: "They were last and now they've got to be first."
He said another decade of austerity would be a mistake, saying it was "inevitable" that the wealthy would have to pay more.
The 57-year-old won the contest to succeed Jeremy Corbyn on Saturday.
He defeated Lisa Nandy and Rebecca Long-Bailey in a ballot of party members and other supporters.
Meanwhile, Sir Keir is expected to announce members of his shadow cabinet, saying that it will be "balanced across the party, across the country" and will be diverse.
Speaking to the BBC's Andrew Marr Show, Sir Keir said: "What we can't do is go back to business as usual we now know who the key workers are, they have very often been overlooked, underpaid and there has got to be a change."
He said funding of the NHS had to be looked at and "we have to think about how we reimagine the economy going forward".
"I think it is inevitable that we have to ask those that have more to pay more," he said.
"When we are through [the coronavirus crisis] there is going to have to be a reckoning, we are going to have to do things differently."
His comments come as Health Secretary Matt Hancock has warned that exercise outside the home could be banned if people ignore the lockdown rules on staying at home and social distance.
Sir Keir said Labour would support the government if it decides to take the step of further restrictions, including on exercising outside the home.
He was it was "particularly difficult" for those who do not have gardens or live in overcrowded homes, but he said: "We have got to get through this. Every time people break the guidance from the government,