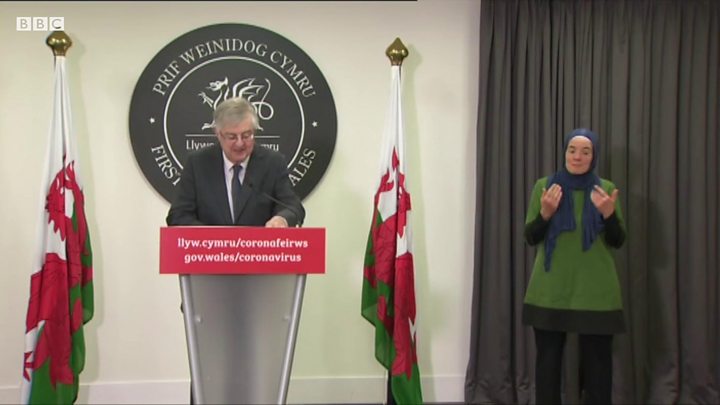 Media playback is unsupported on your device
Media captionCoronavirus lockdown exit plan for Wales 'puts health first'
A cautious route out of lockdown measures in Wales is "putting people's health first", the first minister has said.
Mark Drakeford unveiled a plan for easing restrictions on daily life that have been in place for more than seven weeks.
But there are no dates provided for when changes could be made.
"All our decisions will be based on the latest scientific advice," said Mr Drakeford.
"We will act carefully and cautiously, in partnership with people, in a way that is right for Wales. And we will put people's health first," he added.
What has been the immediate political reaction?
Welsh Conservatives leader Paul Davies described it as "a roadmap to a cul-de-sac, not a roadmap to recovery", and a "hopeless plan".
"We need to begin to unlock society but Mark Drakeford seems to have lost his keys," he said.
Plaid Cymru leader Adam Price said the strategy was "thin on detail" and how it will end community transmission.
He added New Zealand's model of driving down the R number to reduce avoidable deaths and "eradicate" new cases should be mirrored in Wales, and local lockdowns for clusters should eventually be considered.
"The onus will fall on the Welsh Government to urgently change gear on testing and tracing to allow us to move safely on to the next phase on the path to recovery," he said.
The Brexit Party tweeted: "Welsh Labour are playing politics during a pandemic. It's time to end the confusion and work on a UK-wide approach to fighting the virus."
Image copyright Getty Images Image caption This was described as the 'first steps on our recovering journey' after lockdown was introduced in March
There has been pressure from some quarters for a faster easing of the lockdown in a bid to restart the economy.
In England, a similar plan includes suggested timetables.
In Wales, the government is using a traffic-light system for phased reductions in the lockdown.
Coronavirus 'with us for a long time to come'
Mr Drakeford stressed the country was only now moving "carefully and cautiously" into the first red zone, what he called the "first steps on our recovering journey".
Providing the virus remained under control, Wales would move to the amber zone which would see more signs of returning to normal.
The "green zone" would come when the country was "still on top of the virus".
There life would begin to look more like it was before coronavirus began "but not identical to it,"